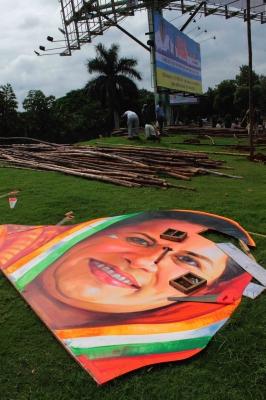 Telangana Rashtriya Samithi chief K Chandrasekara Rao is on his way to Delhi, where he will reportedly meet the Congress's top brass and urge them to pass a bill approving the creation of Telangana as soon as possible.
He is scheduled to meet Congress President Sonia Gandhi later today.
It is believed that KCR will thank Gandhi for her decision to support the creation of Telangana. He will also pledge the support of his party's members of Parliament for the Food Security Bill.
Dispelling reports about a possible electoral tie-up between the Congress and the TRS, sources in the latter party indicate that it is not ready to make any such commitment yet.
The TRS has decided to fight the assembly election on its own and will consider teaming up with another party only after the election results are declared.
Meanwhile, a host of Congress leaders from Seema-Andhra have congregated in New Delhi to seek a reversal of the Congress's decision to carve out Telangana.
Protests in Seema-Andhra regions are showing no signs of abating. The indefinite fast by YSR Congress chief Jagan Mohan Reddy in the Chanchalguda prison is adding to the woes of local Congress leaders.
They are apprehensive that Jagan will milk the situation for political mileage as much as he can and win the support of the furious locals.
But as Gandhi clarified during her recent meeting with Andhra leader Chiranjeevi, the Congress is in no mood to reverse its decision.
Gandhi made it clear that the Congress will stick by its decision and the division of Andhra would soon be a reality that all party leaders need to come to terms with.
The Congress has, however, remained non-committal about the time-frame to create the new state.
Earlier, it was believed that the bill would be passed only after the Lok Sabha election when reports of the national polls being held as early as November were doing the rounds.
But Gandhi has ruled out the possibility of early elections, giving hope to the people of Telangana that their very own state may become a reality by November.
To formally begin the process of carving out the state, the Cabinet Committee of Political Affairs will first hold a meeting to discuss the issue. Then the committee will put out a note that will lead to the presentation of a bill in Parliament, which Congress insiders believe will be done in November.
Once the bill in favour of the creation of a new state is passed, though the Congress's vote-bank is bound to take a hit in Seema-Andhra, but the verdict in Telangana will be in its favour, hope Congress leaders.
Image: A cut-out of Congress President Sonia Gandhi at a pro-Telangana rally in Hyderabad ' Photograph: Snapsindia