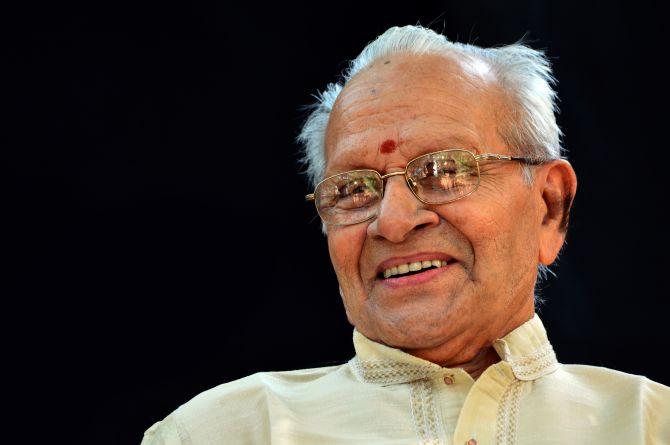 Noted Kathakali exponent and Padma bhusan recipient, Madavoor Vasudevan Nair passed away during a stage performance in Kollam, Kerala.
The 88-year-old artist was performing the mythological character Ravana, the antagonist in the epic Ramayana, at the Agasthyakood Mahadeva temple at nearby anchal at around 10.40 pm on Tuesday when he felt uneasiness and collapsed on stage.
Though he was rushed to the hospital, he had passed away by then, family sources said.
A disciple of Guru Chengannur Raman Pillai, Nair was drawn to Kathakali while he was only 13 years of age and was one of the last practitioners of the south kerala style school of classical dance.
Ravana, Duroyodhana, Keechakka and Kamsan were among the favourite subjects he liked to portray on stage through Kathakali, the classical dance drama which is distinguished by its elaborate colourful make up, costumes and face mask.
He is survived by wife, two daughters and a son.
Besides being awarded Padma bhushan in 2011, Madavoor had also received the Sangeet Nataka akademi award in 1997, Kerala Kalamandalam award among others and had performed the world over.
Chief Minister, Pinarayi Vijayan, was among those who condoled his death.
The funeral will be held later on Wednesday.
Last month, Noted Ottanthullal exponent Kalamandalam Geethanandan had collapsed and died while performing at a temple in nearby Irinjalakkuda in Thrissur.
IMAGE: Madavoor Vasudevan Nair. Photograph: Wikimedia Commons