Real challenge for Mehbooba Mufti will be how to make India listen to voice of Kashmir. Aditi Phadnis reports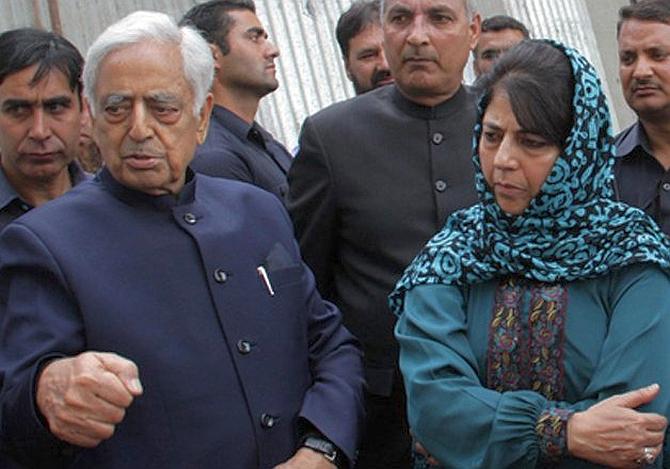 Experts are united: it is not the Bharatiya Janata Party, the other partner in the government in Jammu and Kashmir, that is the challenge Mehbooba Mufti faces.
It is not even rivals in her party. The real challenge is how she will be able to manage New Delhi and get the seat of Indian power to listen to the voice of Kashmir.
It is now a matter of time before Mehbooba is elevated as chief minister (CM) of J&K, the first woman CM of the crucial border state.
For the record, the BJP, which has 25 seats in the 87-member assembly, says the election of the chief minister is an internal matter of the 28-member People's Democratic Party.
It is absolutely right. Earlier, Ram Madhav, the BJP leader who helped script the party's gains in J&K, had ruled out any bargaining with the PDP on the post of chief minister, saying categorically that Sayeed would be CM for the entire six-year duration of the government. Will this hold true now that another individual has become the PDP's CM nominee?
Mehbooba's priorities will be slightly different from her more mature -- and also more laid back -- chief minister father.
As chief minister, she will be more aggressive in demanding major concessions for Kashmir.
How this aggression will be received by the BJP will have to be seen.
On the issue of human rights, for instance, Mehbooba has been outspoken about the removal of the Armed Forces Special Powers Act.
The ruling BJP at the centre is equally firm that AFSPA cannot go until, in the centre;s view, Kashmir has stabilised.
Kashmir is yet to get the full rehabilitation package promised to it after the September 2014 floods. Infrastructure needs dramatic improvement -- in the Valley metered connections get barely 12 hours of power a day.
Controversies like the beef lynching do not help.
Simple development issues -- providing drinking waterto the state, for instance -- seem an uphill challenge.
Mehbooba's main strength is her party. This is her child. Her main challengers, one or two senior members, are now dead.
But this is also a handicap -- as chief minister she will now have to make good all the promises she had made to the party, including on human rights violations.
Apart from Jammu, Leh and Ladakh will also be her responsibility now.
As she is a member of the Lok Sabha, she will have to resign and contest the assembly. That is a minor problem. The main challenge is getting Delhi to sit up and pay attention to J&K.
In Mehbooba, the state will have a vocal champion.