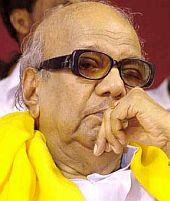 In an apparent bid to put an end to the succession war ignited by his son and Union minister M K Azhagiri, Tamil Nadu Chief Minister and Dravida Munnetra Kazhagam supremo M Karunanidhi has said that only the party has the authority to name a leader.
'Even I don't have the powers to do so,' Karunanidhi said in an interview to Tamil magazine Nakeeran when asked about Azhagiri's remarks that only he (Karunanidhi) has the capacity and ability to lead the party.
'In a democracy, every individual has a right to express his opinion, but the party is the final authority to decide on the leadership issue. Even I don't have the powers,' he said.
Asked about reported difference of opinion between his two sons -- Azhagiri and Deputy Chief Minister M K Stalin -- on the succession issue, Karunanidhi denied it, saying, 'They very well know that if they have any differences, it will only hurt me. They are not ignorant about this.'
The DMK supremo's comments come days after Azhagiri's statement that he would not accept anybody other than Karunanidhi as his leader -- remarks which have again fuelled the succession issue.
Karunanidhi had, on more than one occasion, hinted at his retirement from active politics but has not named his successor. However, Stalin is widely speculated to be his heir.