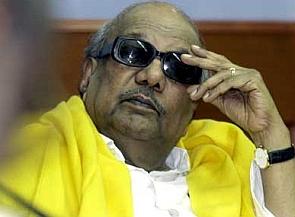 Dravida Munnetra Kazhagam patriarch M Karunanidhi was re-elected as party president for the 11th time in a row by the newly constituted general council on Friday.
Karunanidhi had during the Lok Sabha poll campaign last year indicated that it could be his last electoral campaign and the election is significant for him as he is now tasked with the responsibility of steering the party for the next five years.
Karunanidhi was first elected as president on July 27, 1969 after the demise of DMK founder C N Annadurai. The post was created for the first time since the party was founded in 1949.
K Anbazhagan and Karunanidhi's son M K Stalin were also re-elected as general secretary and treasurer respectively. Four audit committee members were constituted to oversee management of party funds.
Days ahead of the elections, Stalin dismissed reports as malicious in some sections of media that he was not allowed to contest for the post of general secretary and that he had offered to quit from his post of treasurer.
The elections to the top posts of president, general secretary and treasurer marks the culmination of the 14th organisational elections in the DMK.
Despite witnessing a lean phase since the 2011 assembly elections when it faced rout followed by another drubbing in the Lok Sabha elections last year, the party elections saw active participation of about 85 lakh party men.
As part of measures to strengthen the party, the administrative structure of the party at the district level was revamped. District secretaries are powerful in the DMK and the structure was revamped to make it broad based and more accountable.
The 35 party districts were reorganised as 65 districts and elections were completed in 60 such districts barring regions falling under Salem and Erode.
Introduction of a new layer of party units at town panchayats, an intermediary level between branch and union was another important feature of the organisational polls.
In another significant development, party Rajya Sabha MP and daughter of Karunanidhi, Kanimozhi has been elevated as women's wing secretary.
After taking over as president, Karunanidhi announced the elevation of his daughter besides that of others, including former state minister I Periyasami and former MP Subbulakshmi Jagadeesan as party deputy general secretaries.
The elevation of Kanimozhi, who was the party's chief of literary and arts wing, is no surprise as her supporters had been expecting a larger role for her in the party's organisational setup for quite some time now.
Notably, former Union telecom minister A Raja who is facing trial in the 2G Spectrum case, will continue to be the propaganda secretary. Also, Rajya Sabha MP Tiruchy N Siva has been elevated as party's another propaganda secretary.
Former public works department minister Duraimurugan has also been elevated as party's headquarters principal secretary in the place of Arcot N Veeraswami who has been keeping a low profile due to health reasons.
Former assembly deputy speaker VP Duraisami and senior leader S P Sarguna Pandian retain their posts of deputy general secretaries.
Ela Pugazhenthi and Singara Rathina Sabaathy have been named as party's students and labour wing secretaries.
Image: M Karunanidhi was first elected as president on July 27, 1969.