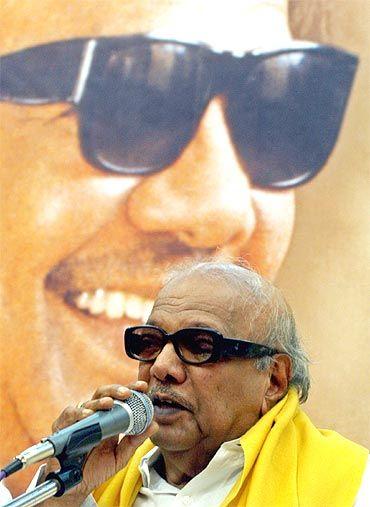 Tamil Nadu Chief Minister M Karunanidhi on Wednesday launched the first election campaign at his birth place Thiruvaroor in Tamil Nadu, which many believed was a lackluster show.
When the Dravida Munnetra Kazhagam chief announced the 'free laptops for students and free bus ride in government as well as private bus routes,' there was no enthusiasm, no proper applause from the audience.

Alliance partner Pattali Makkal Katchi leader S Ramadoss, Tamil Nadu Congress Committee chief KV Thangkabalu and Viduthalai Chiruthaigal Katchi chief Thirumavalavan spoke prior to Karunanidhi.

But when the popular Tamil comedian Vadivelu was called to address the public meeting, the entire audience burst into applause.
However, the same applause was missing when Karunanidhi announced his free laptops.
Various mediapersons, especially from north India, who were there to cover the campaign rally, were left wondering 'why Karunanidhi couldn't get applauded for his freebies when a comedian got it so easily.'
The DMK chief's speech was not impressive as he was the last speaker, getting introduced as the candidate for the assembly from the constituency.

The too tired leader, who is 86 years, is contesting for the eleventh time for the Tamil Nadu assembly -- and in his speech he mentioned that Thiruvaroor was till now a reserved constituency, but with the delimitation in 2011 this constituency has become general.
With the election commission being too strict in observing its rule not to hold public meetings beyond 10 pm, the chief minister glanced at his wrist watch and stopped addressing the meeting before the end of the 'deadline'
Many felt Karunanidhi was not in his usual blazing form. "This is a major factor," commented a senior Congress leader on condition of anonymity.
Image: Tamil Nadu CM M Karunanidhi