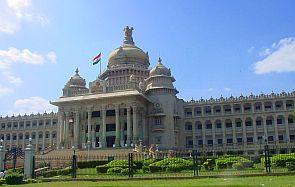 The campaigning for the May 5 Karnataka assembly elections comes to a close on Friday.

With only a few hours remaining, candidates have been hitting the streets with door-to-door campaigns, distributing pamphlets with the party name and serial numbers.

They have been urging voters to reach the polling booths in large numbers and vote for them.


The campaign, which lasted over 25 days, was dominated largely by the Bharatiya Janata Party and the Congress.

There were more national leaders who were spoken about when compared to the local leaders. The BJP had Narendra Modi as its star campaigner besides L K Advani and Sushma Swaraj.

The Congress roped in Prime Minister Manmohan Singh, Congress President Sonia Gandhi and her son Rahul.


Corruption took centre stage as the topmost campaign issue.


There is a lot riding on these elections, which is considered to be a pointer to the 2014 Lok Sabha election outcome.

Both Congress and the BJP are looking to consolidate in Karnataka as there are 27 parliamentary seats from the state at stake.

While the battle is between the Congress and the BJP, the surprise package would be the Janata Dal-Secular, which is looking to make inroads this time and take over 40 seats.

The JD-S could well end up being the king maker.

The elections also would show us how B S Yeddyurappa performance under the Karnataka Janatha Paksha banner. Whether or not he be able to defeat the BJP of which he was part of in the 2008 polls is something that needs to be seen.


Karnataka will go for polling on May 5. The results would announced on May 8.