In a bizarre reaction to Srinivas Kuchibhotla's shooting at a restaurant in Kansas on Wednesday night, the Telangana American Telugu Association has advised the community to avoid communicating in Telugu in public places in the US.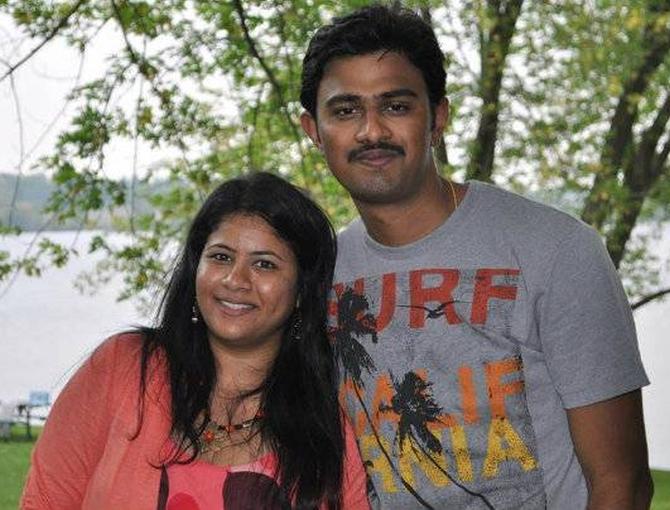 "Much as we love talking in our mother tongue, it can often be misconstrued. Please see if you can communicate in English in public places," the association said in a statement put out in its Facebook page.
The organisation further advised people not to get into argument with others in public places and leave the place immediately without confrontation.
"Isolated places can often be targets. Please avoid going or going single," it said.
The mortal remains of Kuchibhotla (32) were brought to Hyderabad on Monday night and his last rites will be performed on Tuesday.
The shooting took place at Austins Bar and Grill in Olathe in Kansas City, Missouri. Another Indian and Kuchibhotla's colleague Alok Madasani was injured in the incident. Ian Grillot, an American, was injured when he tried to tackle the accused, Adam Purinton (51), who was arrested on Thursday morning, five hours after the incident.
Purinton had reportedly yelled "get out of my country" before opening fire on Kuchibhotla and Madasani.
Meanwhile, US firm Garmin, where slain Indian techie Srinivas Kuchibhotla was employed, has pledged to ensure that his wife is able to return to America after she travels to India for her husband's last rites.
Sunayana Dumala expressed concern after her 32-year-old husband's shooting death at a Kansas bar, that her travel visa would become invalid, making her ineligible to continue living in the United States.
"Garmin has to make sure that I can come back to this country at my will and pursue his dreams of me being successful in any field that I choose," Dumala said during a
press conference.
Company officials said that Kuchibhotla had a work permit or a H1B visa and that Dumala had an H4 visa.
He is the main holder of the visa, which allowed his wife to live and work in the United States.
"My husband came to the United States with lots of dreams. We made Kansas our home, we made Olathe our home," Dumala said.
"Garmin's in-house legal counsel as well as its immigration counsel are working on Dumala's travel arrangements.
Several local law firms, including Bryan Cave, have come forward to offer free legal assistance, said Laurie Minard, Garmin's vice president of human resources.
The law firm also works to ensure that spouses of Garmin's employees have access to various resources and are able to connect with people in their community.
Garmin had sponsored Kuchibhotla as well as other employees from India, Asia and other countries throughout their tenure with the company.
"That is why she was very concerned with him not being here and if she left would she be able to come back," Minard said.
"We have assured her that we will help her with that," he added.
IMAGE: Srinivas Kuchibhotla with wife Sunayana Dumala. Photograph: Sunayana Dumala/Facebook