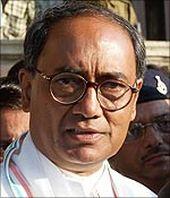 Commonwealth Games Organising Committee chairman Suresh Kalamadi came under pressure from within the Congress over his continuance in the post in the wake of corruption allegations.
Congress general secretary Digvijay Singh said Kalmadi should resign if his name figures in an inquiry by the Central Bureau of Investigation.
"If his name is there prima facie in a CBI case, then on moral grounds he should resign," he told the media in Shahjahanpur in Uttar Pradesh and demanded an inquiry by the central investigation agency.
"I don't know whether there are charges... I am not demanding his resignation," he said. Singh, who is the party in-charge of Uttar Pradesh, is the second Congressman to speak on the raging controversy after Rajya Sabha Member of Parliament Mani Shankar Aiyar's adverse comments on the holding of the Games.
Apparently targeting Kalmadi, Aiyar, a strong critic of the CWG, said that no one is indispensable and hosting "clean" Games should be the priority with less than two months to go for the event.
"No one is indispensable and we should give clean Games to the world," Aiyar told the media outside Parliament.
Aiyar had recently created a furore by saying that he would be unhappy if the CWG were a success and that only "evil" would support such an event.
Kalmadi had shot back immediately, calling Aiyar's remark as "irresponsible and anti-national".
The Games have been rocked by controversies, including alleged corruption charges against top OC officials and shoddy construction work at the venues.
Aiyar had also said his outburst against the CWG has opened up "a can of worms" which was evident from the corruption allegations that have rocked the October 3-14 sporting extravaganza.
In Shahjahanpur, Singh said an inquiry was already on and if Kalmadi is found guilty, then resignation should be the logical outcome.
He said he was against a "media trial" on the corruption charges surrounding the Games. One should not jump to any conclusion but await the result of the inquiry, the Congress leader said.
Image: Congress general secretary Digvijay Singh