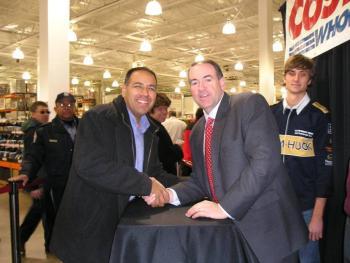 Jody Venkatesan has declared his candidacy for Maryland's state senate from District 13 — where he and his family have lived for 13 years — on the Republican ticket.

 

Venkatesan, 39, a United States Army veteran who is a partner and auditor with a local firm of certified public accountants, Holloway & Company, is also a small business owner of a company he founded, called Platinum Business Services.

 

He told India Abroad that what had prompted him to run was because "I was increasingly concerned about the rising tax burden on small businesses and the citizens of Maryland."

 

He was born in Endicott, New York. His father Shane Venkatesan, originally from Chennai, came to the US in 1968 and married an American who had also been born and raised in Endicott.

 

"I worked within the Stone Lake HOA (Home Owners Association) in my community to roll back a 30 percent increase in annual fees by firm fiscal management and cost cutting," Venkatesan said. "Through this activity, I became more convinced that I could help the entire state through a run for the state senate."

 

He acknowledged that he was a lifelong Republican and contributor to the GOP and that he had "started working on campaigns when I was 8 in upstate New York."

 

"Many of the lessons I learned about civic responsibility and politics, I learned from Dick Miller, a longtime friend and Republican in the New York State Assembly," he said.

 

Venkatesan said that save for the Republican Indian Committee's endorsement, he had not received any other endorsements, but added, "We have commitments that others are pending. We are working on several."

 

In its endorsement, the RIC said, 'Jody's father, a Tamil immigrant who came to the United States in 1968, instilled in his son the values of hard work, honesty and community service. RIC strongly believes that Jody is a candidate who can help to restore and revitalize the Maryland economy… Quite simply, Jody had the right experience at a time  when we desperately need representatives in government who understand real world economic issues and the needs of small business.'

 

Venkatesan told India Abroad he had raised $10,000, "with a commitment of another $15,000.

We have many fundraisers planned." He acknowledged he was still a long way off from raising the $250,000 he required to run a viable campaign through the general elections.

 

He said some of the Indian-American Republicans in Maryland and the Washington, DC metropolitan area had come through for him, "but we would like to see more support from the Indian community."

 

"We have been working with the Greater Washington Telugu Organization and I am also getting broad appeal from Indian-American Republicans and also Democrats," he said. "I have worked with several other Indian Americans throughout my career in auditing and many of them have provided support as well as provided contacts within the Indian community that I can tap for support."

 

He said the main themes of his campaign as well as if he were elected state senator would be restoring small business, improving fiscal efficiency and investing in education.

 

"I am passionate about wanting to work to reduce the tax burden on small businesses, especially start-ups," he said, "because according to a recent study based on US government data on job creations, it is these businesses that are our primary job creators."

 

Meet the candidate

 

Jody Venkatesan is an alumnus of Harding University with undergraduate degrees in international business and finance

He was an internal auditor with Marriott International and Manor Care.

 

From 1989 to 1993, he served in the US Army's 902nd Military Intelligence Group in Fort Meade, where he specialized in counter-intelligence, counter-terrorism signals intelligence and information security, and graduated from the US Army's counter-intelligence school in Fort Huachuca, Arizona.

 

After being honorably discharged and then attending college, he returned to Maryland in 1996 and with wife Louise established their home in District 13. They have three children, Bethanne, 12, Emily, 9, and Philip, 6.

They attend the Silver Spring Church of Christ, where Venkatesan has been a deacon for 10 years. He is also an assistant coach with the WHC Fever travel softball organization and the head coach for the OBGC IOU Cougars, on which Emily plays.