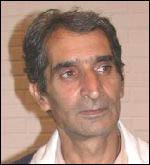 For 55-year-old Parvez Imroz, human rights has been a costly passion.
As founder of the Jammu and Kashmir Coalition of Civil Society, Imroz has not only lost seven of his colleagues, but he too escaped death when unknown assailants shot at him in April 1995 while he was driving home.
He has been filing public interest litigations for people languishing in various prisons in Kashmir, keeping track of hundreds of people who simply vanished into thin air during the last 18 years and holding protests against violations of human rights.
He was the first to file a PIL in the state high court against the trafficking of poor, helpless Bengali women to Kashmir and it was on the basis of this PIL that the court swung into action ordering an immediate ban on such shameful trafficking.
A lawyer by profession, his organisation has been rendering free legal assistance to those whose human rights have been violated and those whose loved ones have been killed.
Members of the jury of the Ludovic-Trarieux International Human Rights Prize in Brussels Court's House on June 2, 2006, awarded the eleventh Ludovic-Trarieux Prize, created in 1984 (the first prize winner was Nelson Mandela then in jail), to Parvez Imroz.
He was awarded the prestigious prize for his work to illustrate human suffering, defence of human rights and for working to uphold the supremacy of law.
The award citation said,"The 2006 prize is awarded to Parvez Imroz, a human rights lawyer and a civil rights activist in Srinagar, the capital of Jammu and Kashmir, who, since the end of the 1980s, has initiated and led campaigns for human rights in a context of grave violations, including killings, tortures and rapes, or forced "disappearances" with impunity".
"This award is the recognition for upholding of human rights and the rule of law," said Imroz.