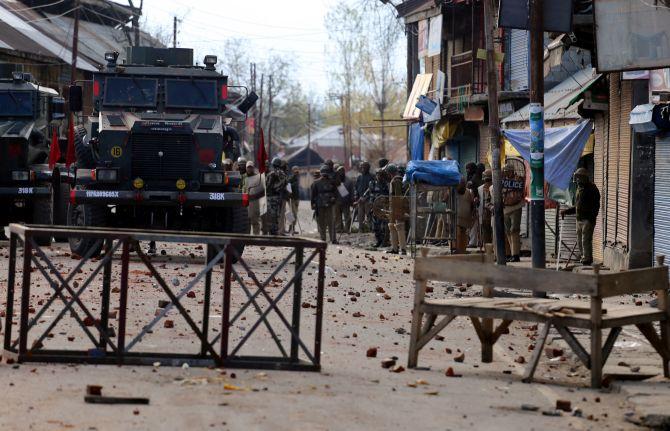 Two youths were killed and another wounded on Tuesday when security forces allegedly opened fire to disperse protesters in north Kashmir's Handwara town of Kupwara district.
Protests erupted following allegations that a girl student, on her way home, was molested by a soldier posted in an army picket in the town.
High tension gripped the district after youth joined the protesters and started heavy pelting at police and army troops.
"Two persons were killed and another wounded in the town," said a senior police officer. He also said that another civilian was critically wounded and shifted to Srinagar for treatment.
Inspector general of police, Kashmir zone, Syed Javaid Mujtaba Gillani told Rediff.com that there was pelting in the town following allegations of molestation of a girl.
A local resident said that heavy stone pelting was continuing in the town.
However, a defence spokesperson, in a statement said that the incident will be investigated and the guilty will not be spared.
"The army deeply regrets the unfortunate loss of life. Matter will be investigated and anybody found guilty will be dealt with as per the law," said the statement.
Heavy police reinforcements have been dispatched to Handwara to avoid any untoward incident.
Image: Clashes broke out between army and protesters in Srinagar. Photograph: Umar Ganie