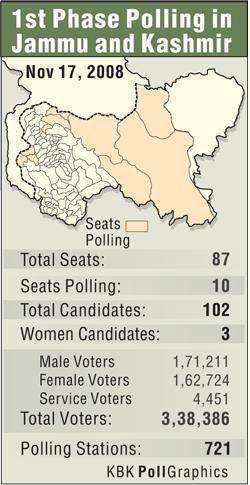 The stage is set for the first phase of polling on Monday in the 10 assembly constituencies spread over four districts of Jammu and Kashmir amid tight security in view of possible attempts by terrorists to disrupt the polls.
Triangular contest in Bandipora
Central security forces have taken positions well in advance in and around 1038 booths in Bandipora, Poonch, Leh and Kargil districts to instill confidence among the voters and foil the 'evil designs' of terrorists to disrupt the electoral process, officials said.
Of the 1038 polling stations, more than half of them have been described as 'hyper sensitive' while the rest have been placed under 'sensitive' category.
Early snow takes Kashmir by surprise
Over six lakh electorate will cast their franchise to choose 10 representatives o Monday in the most-keenly fought assembly elections in the state's chequered political history.
Their counterparts in 77 assembly constituencies will cast their ballot in six phases on November 23, 30 and December 7, 13, 17 and 24.
Former Deputy Speaker of the Assembly and National Conference leader Mohammad Akbar Lone, former Ministers in the PDP-Congress coalition government -- Usman Majid and Nawang Rigzin Jora, sitting Lok Sabha member Thupstan Chhewang and member of the state Legislative Council and PDP leader Nizamuddin Bhat are among the 102 candidates whose electoral fortunes will be decided in the first round of polling.
Low turnout predicted for J&K polls
Director General of Jammu and Kashmir Police Kuldeep Khoda said inputs received by the security forces and the recent attacks by terrorists suggest that efforts will be made to disrupt the polls.
"The campaign for the 10 constituencies going to polls on Monday, which ended on Saturday, was peaceful. The inputs that we have received and the recent attacks indicate that the terrorists are not totally silent," Khoda said.
The authorities pressed into service helicopter to ferry the polling staff and poll materials, besides security personnel to high altitude areas currently cut off from the rest of the state due to recent heavy snowfall in Kashmir, officials said.
"We have flown seven sorties to Gurez for taking the poll staff, security personnel and equipment there," they said.

"While 70 per cent of the staff has reached Gurez, the remaining 30 per cent are being flown to the border constituency on Sunday," Kashmir's Divisional Commissioner Masaud Samoon said.
He said requisite personnel and material had already been delivered at Nobra and Zanskar constituencies in the Ladakh region, cut off due to snowfall.
Although no militancy-related violence was reported during campaigning in any of the 10 assembly segments, clashes between separatists and mainstream political party workers took place at several places in Bandipora and Sonawari constituencies.
Two separatist leaders, including JKLF chairman Mohammad Yasin Malik, were arrested by authorities on October 23 for launching a poll boycott campaign at Hajin in Bandipora district.
The key Sonawari constituency in Bandipora has the highest number of candidates among the 10 seats while Nobra constituency in Leh district has the least.
Lone is facing challenge from 21 candidates in his bid for second term as MLA from the Sonawari constituency, which was represented by dreaded counter-insurgent Mohammad Yousuf alias Kuka Parray in 1996.
 
Lone defeated Parray by margin of over 12,700 votes in the 2002 assembly elections.

Neighbouring constituency of Bandipora has the second largest number of candidates at 19. A minister in the PDP-Congress coalition government and close associate of Parray, Usman Majid, is also seeking a second term from this segment.
Among the candidates is sitting member of state Legislative Council and general secretary of PDP Nizamuddin Bhat.
In the Leh constituency, five candidates including sitting Lok Sabha member Thupstan Chhewang and former minister Nawang Rigzin Jora will fight each other, while the neighbouring Nobra segment will witness a quadrangular contest.
Not a single vote had been cast in the 2002 assembly polls in both these constituencies as Jora (Leh) and Sonam Wangchuk Narboo (Nobra) were declared elected unopposed.
In Kargil district, both Kargil and Zanskar seats have five candidates in the fray. Former Minister Haji Nissar Ali and National Conference's Qamar Ali Akhoon are top contenders for seat. The two were the only candidates in the 2002 polls.
 
In Poonch, 36 candidates will be vying with each other for the three seats -- Surankote, Mendhar and Poonch-Haveli -- in the district. National Conference will try hard to defend its forte in the Jammu region as the party had bagged all the three seats in the 2002 polls as arch-rival People's Democratic Party has made substantial inroads in the area.
Eleven candidates are in the fray for the Surankote constituency where National Conference candidate Mushtaq Ahmad Bukhari will seek a second term but will have a tough fight with his brother Mumtaz Bukhari, who is the PDP candidate. Congress Candidate Mohammad Aslam is also in the fray.
In the Mendhar constituency, Javed Ahmad Rana of National Conference, who won in 2002, will face 11 other candidates, including PDP's Sardar Rafiq Hussain Khan.
In the Poonch-Haveli segment, NC rebel and sitting member of the Legislative Council Bashir Ahmad Naaz, contesting on a Congress ticket, is up against his former colleague Aijaz Ahmad Jan. Naaz and Jan will have 11 others to contest with, including PDP candidate Imtiyaz Hussain Banday.  

Officials are expecting a good turnover at all the 10 constituencies barring Bandipora and Surankote. These segments recorded 31.25 and  40.01 per cent polling in the 2002 elections.
The rest of the constituencies recorded Gurez (76.48), Sonawari (56.50), Kargil (74.82), Zanskar (78.96), Poonch-Haveli (60.73) and Mendhar (60). Not a single vote was cast in the 2002 assembly polls in the Leh and Nobra constituencies as the candidates were elected unopposed.