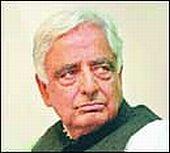 Former Jammu and Kashmir chief minister and Peoples Democratic Party patron Mufti Mohammad Sayeed on Wednesday said that it was futile to expect peace in Kashmir while the government continued to evade real problems.
"Expecting the people to give peace a chance is a noble wish, but unrealistic in view of the uninterrupted use of draconian methods used by the government," Mufti said in a statement. "The discourse on Kashmir has once again been turned on its head by focusing on abstracts and theories and evading action on the problems that face the people."
Mufti said even the eight action points set out by the government only a month back have disappeared from the discourse.
"It seems the government has gone back to its familiar mode of forgetting about Kashmir after it gets off the news headlines," he added.
According to the PDP patron, good intentions have to be followed up with matching action and unless that was done it would only further fuel alienation, trust deficit and cynicism.
Mufti said while the government itself had set an agenda of reviewing Armed Forces Special Powers Act, reduction of troops and release of prisoners, only the reverse of these objectives, was being followed.
"An entire generation of Kashmiri youth is sought to be branded as stone pelters and hounded into the underground. Many people have run away from their homes fearing arrest, torture and extortion," he said adding, it seems arrests have been turned into an industry for the security forces and political brokers to benefit from.
"While more and more people are being imprisoned instead of releasing them, the government has reportedly plans to establish more police stations in the rural areas. This speaks volumes about the inability to understand the sentiment the mishandling of which has brought the state to its worst phase of history," Mufti said.
Image: Mufti Mohammad Sayeed