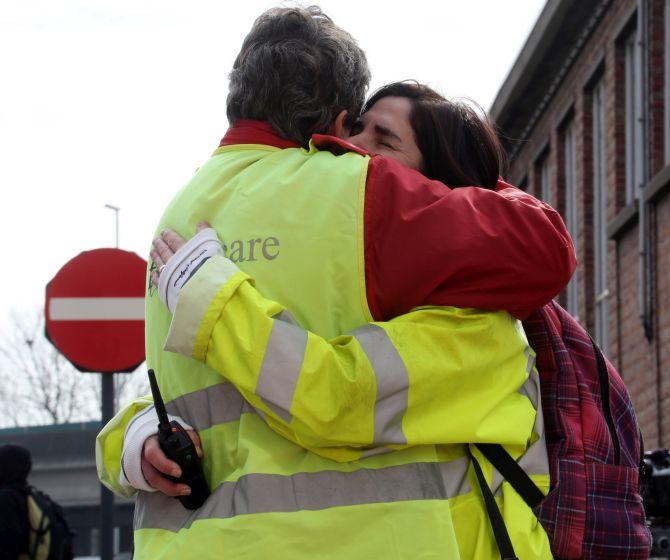 Two Jet Airways crew members were injured in the explosions that rocked Brussels' Zaventem airport on Tuesday, which led the airline to cancel all its flights to and from the Belgian capital till Wednesday.
"Two Jet Airways staff have sustained injuries in the explosion at Brussels airport. Both of them are receiving medical care at hospitals," the airline said.
While the airline did not share details on the injured crew, sources said that the two cabin staff -- Nidhi Chaphekar and Amit Motwanai, belonged to Mumbai.
As per the latest information received from Brussels, Jet Airways passengers have been accommodated at three locations by the airline staff in co-ordination with the local authorities, it said.
Arrangements for their food and comfort have been made till the situation normalises, Jet Airways said.
"We are working very closely with the Indian Embassy and are in touch with the Indian Ambassador to plan the next steps for evacuation of our guests from Brussels once the airport becomes operational," the airline said.
A series of explosions ripped through Brussels airport and a metro train, killing around 35 people and injuring more than 200 in the latest attacks to rock Europe.
Brussels airport serves as Jet Airways' European hub for international operations. The airline had, however, recently announced relocation of this gateway to Dutch capital Amsterdam from coming Sunday.
Meanwhile, Jet Airways has cancelled flights operating to/from and via Brussels until Wednesday.
Jet Airways has also offered a waiver on cancellation, rebooking and rerouting of tickets for travel to/from/via Brussels until March 26, the airline said.
The airline said for further information passengers can contact Jet Airways contact centre in India 1800225522, 1-877-8359538 (The United States) and 08081011199 (The United Kingdom).
Jet Airways flyers in India too were panic stricken after the airways' centre at Indira Gandhi international airport in New Delhi received threats about bombs in five of its aircraft.
While three of the planes had already departed by the time the anonymous call about the bomb threats was received, the fourth aircraft, which was bound for Chennai, was diverted to Nagpur, sources said.
Another plane, also bound for Chennai which was preparing for take off, was grounded, a senior police official said.
"Jet Airways has received a security alert for five flights from Delhi. All flights are on ground and are being checked by security agencies at the respective airports," the airline said in a tweet but did not share specific details.
"We regret the inconvenience caused to our guests. The safety and security of our guests and crew is always our main priority," Jet Airways said.
Sources said the three planes, which received bomb threats, had already flown to their respective destinations -- Gorakhpur, Chandigarh and Dehradun.
Prime Minister Narendra Modi described the attacks at the Brussels airport as "condemnable" and "disturbing".
"News from Brussels is disturbing. The attacks are condemnable. Condolences to families of the deceased. May those injured recover quickly," Modi, who is scheduled to visit Brussels next week for India-EU Summit, tweeted.
Image: Airport staff comfort passengers after they are evacuated from Zaventem Bruxelles International Airport after the terrorist attack. Photograph: Sylvain Lefevre/Getty Images