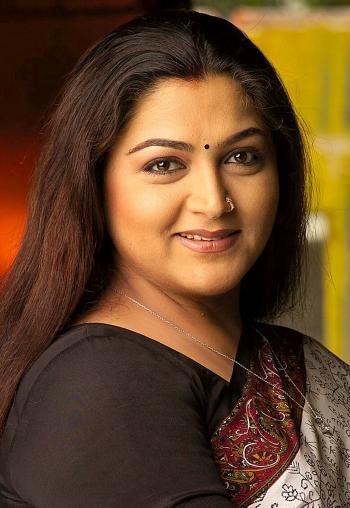 Days after she joined the ruling Dravida Munnetra Kazhagam, South Indian actress Khushboo's nine-year-long popular reality game show has been dropped by pro-Anna Dravida Munnetra Kazhagam Jaya TV.
Jaya TV, run by relatives of Sasikala, a close associate of AIADMK leader Jayalalithaa, has stopped telecasting the largely viewed show 'Jackpot' anchored by Khushboo.
Jaya TV sources said the hour-long programme was stopped as the channel's policy was not to have any link with people, who had connections with DMK. They said the channel refrained from the telecast of films for which chief minister and DMK patriarch M Karunanidhi had penned the script.
Khushboo, when contacted, said it was not a surprise for her as she was expecting it since joining the DMK on Friday.
Asked whether she would anchor a similar programme on SUN TV or the Kalaignar TV, run by those close to the DMK leadership, she said she had not yet thought about it.
The 39-year-old actress, however, said it was wrong to mix business with politics. 'Jackpot', telecast at the prime time on Sunday nights, enjoys good TRP ratings.
Khushboo, who won a four-year long legal battle when the Supreme Court recently quashed 22 cases filed against her in different courts over her controversial remarks on pre-marital sex, had enrolled herself as a primary member of DMK in the presence of Karunanidhi on Friday.