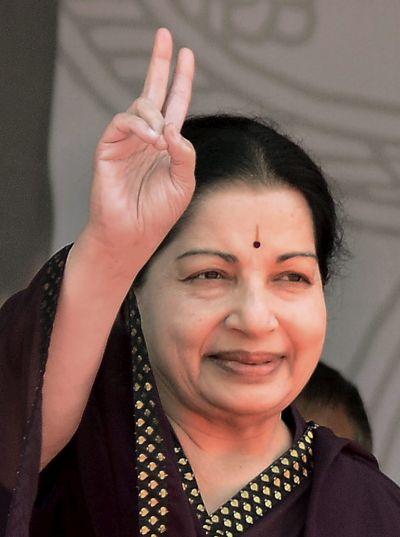 All India Anna Dravida Munnetra Kazhagam supremo and Tamil Nadu Chief Minister Jayalalithaa on Wednesday restructured the party's apex body, retaining trusted loyalists, including Finance Minister O Panneerselvam, and dropping several office-bearers.
Jayalalithaa, who will continue in the numero uno position as general secretary, has retained veteran leader E Madhusudhanan as presidium chairman. The changes were announced in a party release.
The new team consists of 38 members. The top team that was announced last year well ahead of the assembly polls comprised 41 functionaries.
While Panneerselvam will continue as party treasurer, Lok Sabha Deputy Speaker and veteran leader M Thambidurai will continue as party's propaganda secretary and Visalakshi Nedunchezhiyan would stay on as organising secretary.
Senior leaders C Ponnaiyan and Panrutti S Ramachandran, who were organising secretaries, will now be among the official spokespersons besides CR Saraswathy, MaFoi Pandiarajan and others.
A key minister in the previous AIADMK tenure and Dindigul district party secretary, Natham R Viswanathan, was relieved of his party position. He lost in the May 16 polls from Aathur. Dindigul Mayor V Marutharaj will now be the district secretary.
Similarly, Women's wing secretary Gokula Indira has been replaced by Rajya Sabha MP Vijila Sathyanand.
Also, the AIADMK chief has replaced party headquarters secretary and former minister P Palaniappan with Public Works Department Minister and Salem strongman Edappadi K Palaniswamy.
Notably, she has dissolved the party disciplinary and petitions (consideration) committees besides the posts of assembly constituency party secretaries and joint secretaries in all the 234 constituencies.
Panneerselvam, former key ministers Natham R Viswanthan, R Vaithilingam and Edapadi K Palanisamy were part of the disciplinary committee before it was disbanded.
Jayalalithaa has named a total of 16 new party-district secretaries.
Transport Minister M R Vijayabaskar and Environment Minister KC Karupannan have been appointed secretaries of Karur and Erode (Suburban) districts, respectively.
Information Technology Minister M Manigandan has been named secretary of Ramanathapuram.
Jayalalithaa dropped former minister Mukkur N Subramanian as Tiruvannamalai (North) District Secretary and appointed Thoosi K Mohan in his post.
In Theni District, she relieved district secretary T T Sivakumar and Secretary of party young men, women wing (Ilayngyar-Ilam Pengal Pasarai) P Ravindranath Kumar from their posts.
Ravindranath Kumar is the son of Panneerselvam, a confidant of Jayalalithaa. Thanga Tamilselvan replaces Sivakumar and SKM Mani Ravindranath Kumar.
Jayalalithaa named former MLA VP Kalairajan as South Chennai (North) District party secretary and relieved T Nagar B Sathya (sitting MLA) from the post. She named former MP, N Balaganga as North Chennai (South) district secretary relieving KS Srinivasan from that responsibility.
In the hilly district of Nilgiris, where the party managed to bag just one assembly seat of three, she nominated new functionaries to district, union and town-level positions after relieving incumbent office-bearers.
She dismissed five office-bearers in the district for anti-party activities.
Rajya Sabha MP, R Vaithilingam, Maithili Thirunavukkarasu, P Narayanaperumal, and Suda K Paramasivan are the new organising secretaries and part of the top team.
Backward Classes Minister S Valarmathi, AK Selvaraj, S Raju and K Gopal have been retained as organising secretaries while Tuticorin Loksabha MP, J Jeyasingh Thiyagaraj Nattarjee, and A Pappa Sundaram were dropped.
Among the 14 official spokespersons are former Union minister and party Rajya Sabha MP, SR Balasubramoniyan, former Minister R Vaithilingam, Nanjil Sampath and K Samarasam.
Functionaries of party wings including students wing (MP and secretary, students wing, SR Vijayakumar) and agriculture wing (Tamil Nadu Housing Board Chairman and Pudukottai District party secretary, PK Vairamuthu), party affiliated trade union (chief of AIADMK affiliated Anna Thozhir Sanga Peravai, Dhadi Ma Rasu) are also part of the 38-member top team.
A Thamizhmagan Hussain will continue to be Annaithulaga MGR Mandram secretary.