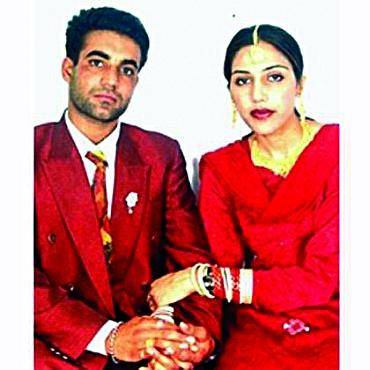 Jaswinder Kaur Sidhu's mother Malkit Kaur Sidhu and uncle Surjit Singh Badesha were arrested on January 6 and charged with plotting her murder, over 11 years ago in Punjab, India.
The Royal Canadian Mounted Police revealed how Jaswinder (Jassi), then 25, a resident of Maple Ridge, British Columbia, was murdered on June 8, 2000, after she defied her family to marry a poor rickshaw driver. Her husband Sukwinder Singh Sidhu (Mithu) was seriously injured in the attack.
The police referred to the investigations by the Punjab police and 'uncovered evidence indicating that Jassi's family was involved in the homicide from Canada. As a result of an official request from Indian authorities, Ridge Meadows detachment initiated some investigative enquiries on behalf of the Indian investigation.'
The Punjab police approached the RCMP to extradite Malkit, 63, and Badesha, 67, after seven of the nine people arrested were convicted.
RCMP Corporal Annie Linteau revealed the British Columbia Supreme Court issued arrest warrants under the Extradition Act against the two, January 5. They are in custody, pending an extradition hearing.
Fabian Dawson, deputy editor, The Province, who has followed the case closely, said Mithu was willing to travel to Canada to testify in the extradition hearings.
Speaking on CBC's Fifth Estate, Jassi's cousin Bitty Litt, said 'She (Jassi's mother) was saying all along that it's a family disgrace, that she is defaming the family name. They weren't going to let her be married to a guy like that and let her bring him out here to Canada. They were going to put a stop to it. She kept saying that they're pretty powerful people in India and that, if they wanted to, they can get anything done in India.'
Photograph: Jassi with her husband Mithu