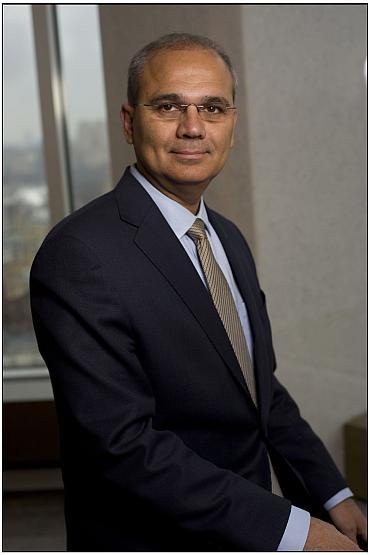 The Cooper Union for the Advancement of Science and Art, one of the topmost educational institutions in the United States, has an illustrious history. Abraham Lincoln gave his 'Right Makes Might' speech here in 1860; Inventor Thomas Alva Edison studied here; and it owns the Chrysler Tower, which was once the world's tallest buildings.

Mumbai-born Jamshed Bharucha will take charge as president of this celebrated college in the heart of New York City, started by Peter Cooper, a self-taught engineer, inventor, industrialist, and philanthropist, who believed that that education should be 'as free as water and air.'
Dr Bharucha, 54, provost and senior vice president, Tufts University, Massachusetts, will take charge as Cooper Union's 12th president in July. Another Indian, Dr Molly Easo Smith, is president of the Manhattanville College in upstate New York.
'Dr Bharucha,' said Mark L Epstein, chairman, board of trustees, Cooper Union, 'exemplifies Peter Cooper's mandate that "the object of life is to do good." A truly innovative educator, Dr Bharucha's interdisciplinary work combines the science of learning with a profound commitment to the advancement of the critical and creative thinking skills necessary to solve our world's problems.'
The Cooper Union has provided full-tuition scholarships to every accepted student throughout its 151 years, making it one of the country's most competitive colleges. Last year, the college received 3,354 applications for a freshman class of 214. Offering rigorous degree programs in engineering, architecture, and the fine arts, it is perennially ranked among the top three engineering schools by US News and World Report.

Ranked first among Newsweek/Kaplan's rankings of the nation's most desirable small colleges, The Cooper Union is one of the most selective institutions of higher education in the world.
"I am honored to have been selected," said Bharucha, who will succeed the 11-year tenure of Dr George Campbell Jr, "and I look forward to joining this dynamic community founded upon the ideal of providing exceptional students with unparalleled access to academic excellence, innovation and social engagement on the basis of merit alone, regardless of their socioeconomic status."
Bharucha, an accomplished violinist, has been a pioneer in studying how the brain responds to music. He has been an advocate for educational innovation, including active forms of learning. At Tufts, he elevated the university's academic stature, sparked multi-disciplinary collaboration, strengthened diversity, and led the institution's international engagement. 
"In a city that is a global epicenter for arts, culture, academia and innovation, the Cooper Union for the Advancement of Science and Art stands out as a jewel--rare, brilliant and multifaceted," Bharucha said. "From the Cooper Union's Great Hall, voices ranging from Abraham Lincoln and Frederick Douglass, to Susan B Anthony and Elizabeth Cady Stanton, to Susan Sontag and Salman Rushdie, to Newt Gingrich and Barack Obama, have not only stirred debate, but launched enduring paradigms in social and political thought. While steeped in history, the college continues to grow as a place of discovery, where talents emerge, intellects expand and characters are formed."
'Jamshed Bharucha's appointment brings to the Cooper Union a proven administrator of the highest caliber, a humanist committed to the highest academic standards and an internationalist with great sensitivity to the cosmopolitanism that New York embodies. Cooper Union is fortunate to have a president of his caliber,' said Shashi Tharoor, UN diplomat-turned-Indian politician.
Before joining Tufts, Bharucha was the John Wentworth professor of psychological and brain sciences and dean of faculty at Dartmouth College, New Hampshire. He was instrumental in launching the first MRI-based program in cognitive neuroscience. As an outstanding teacher, he received the Huntington Teaching Award in 1989 and the Undergraduate Teaching Initiative Special Award in 1992. 
Bharucha's father Jal, a Parsi from Mumbai, came to the US in 1948 to study engineering in Detroit. His mother Elizabeth, an American from Albany, New York, was studying music when they met, married and went back to Mumbai. Jamshed Bharucha first came to the US in 1974.
Bharucha aims to take Cooper Union to the next level with international partnerships, including with Indian institutions. "The higher education sector in India is expanding and there is a huge opportunity for partnership," he said.
He does not think there is a decline in the standards of education in the US.
"The education system in the US is the envy of the world," he said. "Most of the top Indian students want to come to the US for this reason."
He agreed that the number of the Americans opting to study science and technology has declined in recent years. The reason is that most of them are studying to go to Wall Street and the financial sector. Even those who study science and engineering may not stay with it, but go for the financial sector as it pays more. This is a challenge for the US to keep its global competitiveness, he said.

Image:  Dr Jamshed Bharucha