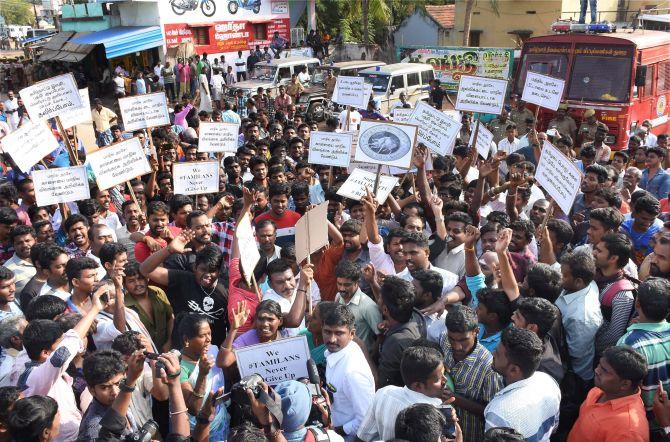 More than 200 youths were taken into custody after they held protests at Alanganallur village demanding lifting of the ban on bull taming sport Jallikattu, police said on Tuesday.
Residents shouted slogans against the police and demanded release of the youths who were taken into custody on Monday night.
Police said the youths had come to Alanganallur on Monday expecting that Jallikattu would be held following an invitation through social media.
Police had resorted to lathi-charge to disperse several youths when they made an unsuccessful bid to tame bulls released on the roads by miscreants.
The cops said many youngsters tried to rush towards the 'exit' point at the Jallikattu venue and the situation went out of control forcing them to resort to lathi-charge to disperse them. However, some youths managed to hold a rally shouting slogans against police, the central government and People for the Ethical Treatment of Animals.
Many Jallikattu supporters staged a dharna near the venue.
As some youths refused to disperse and continued their protest, police took them into custody on Monday night. They have been lodged in marriage halls at Vadipatti and Alanganallur, police said.
Meanwhile, the locals on Tuesday took out a rally and blocked road traffic demanding their release.
Madurai District Superintendent of Police Vijayendra S Bidari urged protesters to hold only peaceful agitations. He assured them that those taken into custody would be released.
A strong contingent of police personnel had been deployed at Alanganallur as hundreds of youths from different parts of the state arrived at the village, which is famous for the bull taming sport, after news spread that Jallikattu would be conducted defying the Supreme Court ban.
Supporters of the sport along with major political parties in the state have been demanding an ordinance for conducting Jallikattu after the Supreme Court imposed a ban on it.
The police had earlier foiled attempts to conduct the bull taming sport, associated with Pongal harvest festivities, in southern districts of Tamil Nadu, detaining several people.
Meanwhile, hundreds of young men and women converged at the Marina beach in Chennai to protest the police action against Jallikattu supporters at Alanganallur.
They demanded release of those taken into custody there and also raised slogans against animal rights NGO PETA which is against conduct of the sport.
They demanded that Jallikattu be conducted in the state. The youths found support from Dravida Munnetra Kazhagam working president M K Stalin who met them at the protest site.
Stalin took up with Tamil Nadu Director General of Police T K Rajendran the issue of releasing the detained protesters.
Police was treating Alanganallur as an 'undeclared war zone' he said in his petition to the DGP where he sought the release of those taken into custody.
He said the protests were voluntary and that the issue had found all-round support among the people of the state.
IMAGE: Youngsters stage a protest against Jallikattu ban at Alanganallur in Madurai. Photograph: PTI Photo