When the Maharashtra government first announced to send a 'water train' to drought-hit Latur in 2015, one would have remotely imagined that it would reap a major political success for the Bharatiya Janata Party in the Congress pocket borough.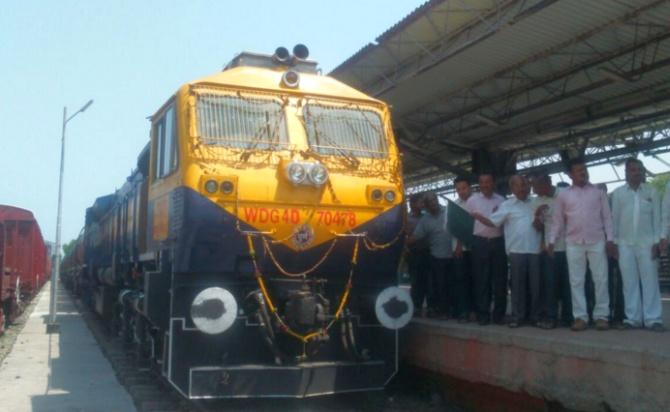 Making a strong inroad, the BJP won the polls to Latur Zilla Parishad.
A Congress stronghold for the past six decades, Latur has been home to two former chief ministers and nine former home ministers of Congress.
The state government had in December 2015 envisaged the idea of supplying drinking water through rail service from Sangli district to parched Latur.
BJP spokesperson Ram Kadam said, "We succeeded in giving a strong message of BJP cares for rural people and we can solve their issues. The water train was not only for the city but we provided (water) to neighbouring areas. We also undertook several works of Jalyukta Shivir. This perception benefited us largely."
Kadam was also the in-charge of Latur looking at the water train project.
The train, named 'Jaldoot', was run jointly by Indian Railways and state government, carried 50 wagons of water from Miraj junction and traversed 340-kms away to Latur city. There, the water was collected in a well located near railway tracks and was further carried into the city.
It would take nearly 14 hours to fill Jaldoot, carrying 25 lakh litres of water.
Since its first trip on April 11, 2016, the train made 106 ferries till August to Latur.
*******
The Beed Disappointment
Maharashtra minister Pankaja Munde offered to quit the Devendra Fadnavis-led government in Maharashtra after BJP's poor performance in the local body polls in her constituency in Beed district.
However, BJP state president Raosaheb Danve sought to downplay the issue.
"I had a word with Pankaja Munde. Victory never went into our head and we never got depressed with defeat. We will decide about her stand (resignation)," Danve said.
"I personally do not find a valid reason behind her decision to put in papers. I feel people's issues will not be solved by her resignation," he told PTI.
"She is a senior leader and part of our core team. She is upset with Zilla Parishad results and we will try to find amicable solutions to her worries," he said.
The BJP leader also dismissed reports of infighting in the party.
"There is no infighting in BJP. We are all working together. Her resignation has nothing to do with BJP and her disappointment with BJP. I have already said BJP would be the number one party (in the state)," he said.