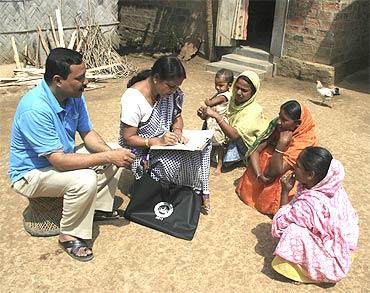 The government on Friday refrained from releasing the caste-based data in its first Socio Economic and Caste Census released in eight decades and maintained that it was concerned with economic data which will help in effective implementation of its programmes.
Brushing aside suggestions that government avoided giving the caste count in the survey report due to political reasons ahead of Bihar polls, Rural Development Minister Chaudhary Birender Singh said, "There is no such thing. Connecting it with elections is not good."
Pressed further, the minister said, "This is the jurisdiction of DG Census. It is for him to decide what he thinks about it. This is entirely in the domain of the DG. Only he can comment on it. Only he can satisfy your queries."
He was asked why the report of the SECC does not include enumeration of caste and whether it will be released in future or not.
The SECC process, which had begun during the United Progressive Alliance government in 2011, had led to a huge political controversy with OBC leaders from various political parties including the then government making a strong pitch for enumeration of caste in the SECC on the lines of the 1931 census.
The Yadav trio -- Mulayam Singh Yadav from the Samajwadi Party, Lalu Prasad from the Rashtriya Janata Dal and Sharad Yadav from the Janata Dal-United --had in 2010 and 2011 raised the issue vociferously in and outside Parliament demanding that it should be held on the basis of caste to ascertain the number of people belonging to backward classes..
There were sharp differences even among the UPA cabinet on the issue. Those who had opposed it were apprehensive that it could open a pandora's box and could lead to demands for a fresh look at reservation.
This is the first Census after 1931 and contains various details with regard to specific regions, communities, caste and economic groups and measures the progress of households in India.
Chaudhary parried repeated questions over non-releasing of caste data in the SECC report saying his ministry was only concerned with the data regarding economic backwardness of people.
"We are concerned with economic data so that we can implement our programmes knowing who need to be brought forward today," he said.
He, however, rejected contentions that the government has refrained from releasing data on caste keeping in mind Bihar Assembly polls where the opponent RJD-JDU combine representing OBC leaders Lalu Prasad and Nitish Kumar is considered a strong force numerically.
"There is no such thing. Connecting it with elections is not good. The survey, which we had conducted has all this data, the categories of Scheduled Castes and Scheduled Tribes that we had mentioned in our statistics are there," he said.
Calling the SECC report "very authentic", Singh said that he had asked other departments as well as states to use the data to take benefit of various government schemes to intended beneficiaries.
"Criteria for deciding Below Poverty Line, which were earlier existing, are no longer there. Now it is the data given on the base of the survey done by the SECC on which we have to function... I can say it is a very transparent and authentic data with which other ministries should also benefit from," the minister said.
He said that at least 96 lakh objections were received about criteria, which have been rectified in the process. "We have rectified it. We have corrected at least 97 per cent of the faults pointed out," Singh said.
Asserting that the Rural Development Ministry will move forward with the current SECC data on delivery of its schemes such as MNREGA, Singh said, "Under the new criteria, we have in our ministry talked about inclusion and exclusion -- like who need more help and who do not require it..."
Singh earlier said, "The data addresses the multi-dimensionality of poverty and provides a unique opportunity for a convergent, evidence based planning with a gram panchayat as unit."
Releasing the Census data, Finance Minister Arun Jaitley said the data will help in better targeting of government policies.