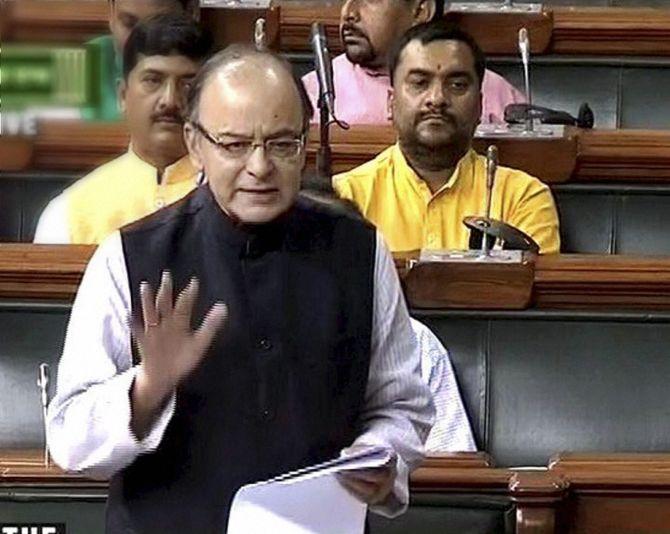 Hitting back at Rahul Gandhi, Finance Minister Arun Jaitley on Thursday reeled out statistics in Lok Sabha to assert that the National Democratic Alliance government had brought down inflation and expressed hope that prices of essential commodities will come down further after a 'good' monsoon.
After Gandhi attacked Prime Minister Narendra Modi and alleged that the government had failed to control prices, particularly of the essential commodities, Jaitley contended that the NDA government had inherited high inflation from the United Progressive Alliance dispensation.
"Any form of bluster is not substitute of statistics," he told the Congress vice president while intervening in a debate on price rise and asked him to compare the status of inflation during the UPA government and that prevailing now.
Referring to Gandhi's attack on Modi for criticising the then Congress-led government over inflation in February 2014, Jaitley said, "This is a topic of statistics and not sloganeering. The UPA had left government in a serious state and it is but natural that any contesting candidate before election would say that if I come to power, I will try to bring inflation down. No one should have any objection to that."
Insisting that the Modi government had reduced inflation and kept it under control, the finance minister said he expects it to reduce further with a 'good' monsoon.
He acknowledged that high prices of pulses is a concern and said steps are being taken to address this by narrowing the mismatch between demand and supply.
Noting that India has the highest production along with highest consumption of pulses, he said while the demand is for 23 million tonnes, the production was 17 million tonnes, leaving a gap of six million tonnes.
The output of pulses is expected to go up to 20 million tonnes this crop year, Jaitley said, adding steps are also being taken by the Food Ministry to create a buffer of 20 lakh tonnes of pulses to keep the prices under control.
He also criticised Gandhi for asking the Prime Minister to set a date by when the prices will come down, saying issues are settled through policies rather than giving dates.
The government is working on policies to encourage farmers to produce more and India is moving towards self sufficiency in pulses produce, he said.
"You are talking about a government which left behind double digit inflation and today we have a situation where steps have been taken in each sector to contain inflation. Any form of bluster is not a substitute for statistics. These are backed by hard facts," Jaitley said.
Jaitley said the monthly statistics shows the pulses inflation is coming down and asked Gandhi not to look for corruption angle in the rise of prices of pulses, which he said occurred due to rise in costs globally besides two consecutive years of drought.
"Even today the corruption scandals that emerge are those of UPAs and not NDA... We have contained inflation despite having two years of drought. Good monsoon helps economy and with good monsoon this year, I expect that the prices of will come down," Jaitley said.
He said the UPA had left the economy in a dire state, with Consumer Price Index and food inflation at double digit, Wholesale Price Index inflation around 6-7 per cent and growth prospects were limited.
He cautioned the UPA against indulging in 'back of envelop calculations' regarding economic data stating it will only be 'misleading'.
Taking a jibe at Gandhi for quoting market prices of essential commodities, Jaitley said in a lighter vein, 'everybody in this House seems to be claiming to go to market everyday'.
He said in 2012-13 and 2013-14, which were the last two years of the UPA regime, were marked by increasing prices and inflation data looked grim.
The NDA government has brought down inflation and for 18 straight months, the country has witnessed negative WPI inflation, the finance minister said.
Giving reply to members' concerns on how the government has utilised the gains on account of drop in crude oil prices, Jaitley said the gains have been utilised in three ways -- to help oil public sector units reduce their losses on account of subsidy, to invest in infrastructure and benefit common people by enabling them to shell out less money in buying petroleum products.
He said 42 per cent of the gains due to fall in global crude oil prices is shared with the states with the Centre retaining 58 per cent of the share.
"It is because of these policies to shore up public investment that for two years in a row that India has emerged as the fastest growing economy. It is mainly because of public investment and foreign investment that we are growing at a respectable rate, but we are not satisfied as we have greater potential," Jaitley said.
"When the going is good, economies grow, but it is only when the going is challenging then the real challenge arises," he said.
Countering Gandhi's remark that the UPA government had waived off farm loans, Jaitley said the NDA government's policies are not one-time and are instead more sustainable towards building rural infrastructure, irrigation facility and sanitation for upliftment of poor.
"All these steps taken by the government will propel India to better economy," he said.
Jaitley said July is the month when, due to seasonal factors, food inflation usually sees an upward trend and after the new crop comes, prices would fall.
Terming as 'new economic equation' Gandhi's remarks that prices of pulses should come down when minimum support prices are hiked, Jaitley said inflation is a matter of demand-supply mismatch.
"This equation I have heard for the first time. The situation is that MSP of pulses is raised but production did not increase and there was two consecutive years of rainfall shortage," he said, adding this year rain Gods have been kind enough.
He said there is demand for 23 MT of pulses this year while the output is 17 MT. The remaining 6 MT would be procured from Myanmar, Mozambique and Tanzania.
The acreage data for the new crop year shows that the output will go up to 20 million tonnes and the government is working towards increasing the buffer stock to 20 lakh tonnes.
With regard to sugar prices, Jaitley said the current price is reeling around Rs 33-34/kg and the government is working to lower it by Rs 1-2/ kg to ensure right price to consumers and better returns to farmers.
He said sugar price had come down to Rs 22-23/kg and farmers were not able to get their cost back and sugar mills were on the verge of closing down. The total dues of farmers from mills have been brought down from Rs 27,000 crore to Rs 1,800 crore.
When prices started going up to Rs 40 per kg, the government brought in export restriction and that cooled prices, the finance minister said.
As regards onion prices, Jaitley said prices were lower till 3-4 months back and the Centre had to purchase 20,000 tonnes extra produce from farmers.
Tomato prices, he assured, will come down after the monsoon season.
Jaitley said the UPA government policies had led to a situation where global publications were talking about policy paralysis and exit of 'I' from BRICS (Brazil, Russia, India, China, South Africa) grouping.
"Private investment was weak, the state of economy was such that banking system's ability to support growth had come down," he said, adding that back of envelop calculations not necessarily forms part of good economic policies.
Defending the move to hike excise duty on petrol and diesel when global crude oil prices were falling, Jaitley said at a time when global growth was witnessing slowdown and banks had limited capacity to lend, the government had no other option than to garner as much resources as possible to stabilise the economy.
When oil prices slumped in the second half of 2014 and 2015, the government hiked excise duty on petrol and diesel nine times to mop up additional revenues that helped it meet revenue and fiscal deficit targets. In all, it raised excise duty on petrol by Rs 11.77 a litre and that on diesel by Rs 13.47 a litre.
Participating in the debate, Saugata Ray (Trinamool Congress) said the government's economic policies are based on two parameters -- windfall from crude prices and cess pool.
He said the Finance Minister failed to provide a clear roadmap as to how it plans to bring down prices and instead he pinned his hope on good monsoon. He wanted to know why the government acts only after the prices have moved up.
He said the prime minister, who had been meeting world leaders including US President Barack Obama and German Chancellor Angela Merkel, did not hold a single meeting on price rise.
Hukmdev Narayan Yadav (Bharatiya Janata Party) said the Opposition is frustrated with the government as it is taking several steps to bring back black money and hence they are trying to raise the matter of price rise in the House.
B Mahtab (Biju Janata Dal) said both the Congress-led UPA and BJP-led NDA have failed to tame the demon of inflation.
"Prise rise is symptom and inflation is disease," he said, adding unless the government deals with inflation it would not be possible to contain inflation.
Mahtab added that the government should deal with the supply side issues to contain inflation which has been adversely affecting the large section of population.
Apparently referring to Reserve Bank of India Governor Raghuram Rajan, he said the person who has been trying to deal with inflation is now going back to Chicago because someone in the ruling dispensation has asserted that he was not a nationalist.
Tariq Anwar (Nationalist Congress Party) said before coming to power NDA leaders promised to bring down inflation but have nothing to contain price rise.
Describing Jaitley's intervention during the debate as 'disappointing', Anwar said people have no choice but to bear the burden of rising prices.
Taking a dig at Modi's initiative to provide cooking gas to poor, he said, now the people have gas but nothing to cook as essential kitchen items are beyond his reach.
He wanted to know why the government always fails to take advance action to deal with rising prices.
Jayadev Galla (Telugu Desam Party) suggested that the central government should have a separate budget for agriculture sector though it could very well merge railway budget with the general budget.
He further said that government should consider including pulses in the ambit of the Food Security Act and increase food subsidy to 10 per cent of the Gross Domestic Product from a little of two per cent presently.