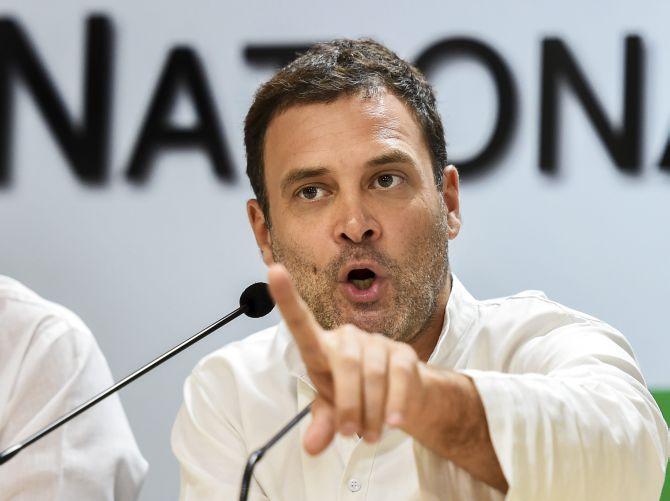 The Congress and the Bharatiya Janata Party on Thursday were locked in a fierce war of words over the Vijay Mallya case with Congress president Rahul Gandhi openly accusing Union finance minister Arun Jaitley of lying and allowing the billionaire tycoon to flee the country.
The BJP threw a counter punch, claiming that the Gandhi family tried to help Mallya's floundering Kingfisher Airlines in 2011-12.
A day after the former Kingfisher Airlines boss said in London that he met Jaitley before leaving India and offered to settle his dues -- a charge the finance minister denied as 'false' -- the battle-lines were firmly drawn.
Seeking to back his accusation, the Congress president said party MP P L Punia saw Jaitley sitting with Mallya in Parliament's Central Hall on March 1, 2016 and held an elaborate 15-20 minute meeting with him.
Punia added that he had seen Jaitley and Mallya talking discreetly when he was in the Central Hall of Parliament.
"On March 3, we heard from the media that he (Mallya) fled the country on March 2. I have clearly stated about this in each of my interview with the media. There are CCTV cameras, we can all see that for proof. If I am wrong, I will resign from politics," Punia said at a press conference.
Stepping up his attack, Gandhi asked Jaitley to resign and challenged Jaitley to get CCTV footage of the day.
"Mr Jaitley is lying, the government is lying on Rafale and the government is lying on Vijay Mallya.
"A meeting was held with Mr Arun Jaitley and Vijay Mallya. The logistics of Mr Mallya leaving the country were discussed in that meeting," Gandhi alleged, bringing in the Rafale fighter jet deal.
He went on to say that Mallya was given free passage out of the country by the finance minister.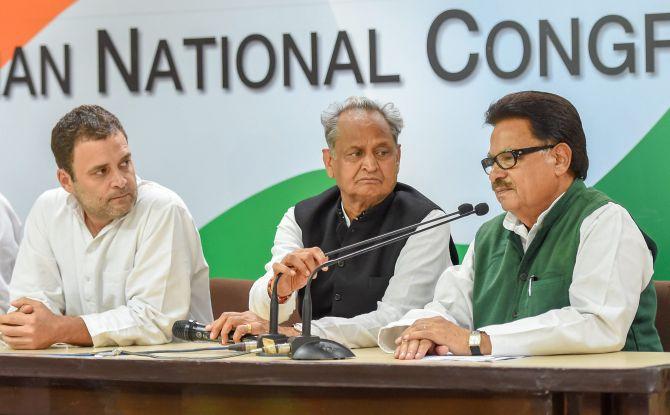 Describing it as an 'open and shut case of collusion', he alleged there was some deal between Jaitley and Mallya.
"The criminal had told him, 'I am going to run away to London'. The finance minister has accepted publicly that he has been told by a criminal that he is going to run away and the finance minister has not done anything, has not informed the CBI, and has not informed the ED," Gandhi said.
The BJP hit back with equal ferocity, blaming the United Progressive Alliance government of giving a 'sweet deal' to Kingfisher Airlines to keep it afloat and suggesting the airlines was perhaps owned by the Gandhi family.
"There is a series of letters between the RBI (Reserve Bank of India) and the SBI (State Bank of India). These letters show us how the previous dispensation under Sonia Gandhi was biased, partial and kept all norms and regulations at bay to give a sweet deal to Kingfisher Airlines," party spokesperson Sambit Patra told reporters, showing a bunch of documents.
"Sometimes it seems the airline was not owned by Mallya, but by the Gandhi family in proxy," Patra added.
Union minister Piyush Goyal joined the chorus of protest from the ruling party and said Rahul Gandhi should explain the relations between his family and Mallya.
The now-defunct Kingfisher Airlines was given loans bypassing all norms, laws and regulations, Goyal said.
Countering Rahul Gandhi's demand for Jaitley's resignation, he said the Congress president should instead quit all the posts he holds.
Mallya, he asserted, had no credibility as he was under the 'glare of law' and was a criminal. He could not be taken seriously, Goyal added.
His party colleague Subramanian Swamy also spoke on the issue.
'We have now two undeniable facts on the Mallya escape issue: 1. Look Out Notice was diluted on Oct 24, 2015 from 'Block' to 'Report' departure enabling Mallya to depart with 54 checked luggage items. 2. Mallya told FM in Central Hall of Parliament that he was leaving for London,' he said on Twitter.
Immediately after Jaitley's sharp rebuttal Wednesday, Mallya had appeared to tone down the seriousness of his comments, saying it was 'not fair' to create a controversy over this issue as it was not a 'formal meeting' and he only 'happened to meet' the finance minister.
The 62-year-old former liquor and aviation baron, who had appeared before a London court in the case regarding his extradition to India to face the trial on fraud and money laundering charges, was asked by reporters if he was 'tipped off' to leave the country.
"I left because I had a scheduled meeting in Geneva. I met the finance minister before I left, repeated my offer to settle with the banks. That is the truth," he responded.
Jaitley, who was finance minister in 2016 when Mallya left India, said in a Facebook post that he had not given Mallya an appointment to meet him since 2014.
Jaitley said Mallya had 'misused' the privilege of being a Rajya Sabha MP to catch him in corridors of Parliament on one occasion while he was walking out of the House to go to his room.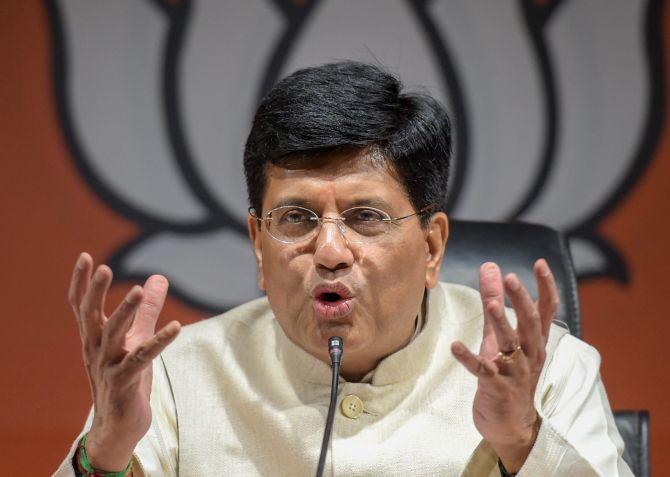 Law Minister Ravi Shankar Prasad wondered whether Gandhi and Mallya were 'working in tandem' and claimed the liquor baron had allegedly benefitted from bank facilities during the UPA government.
In a series of tweets, the Union minister also questioned why a second restructuring of Mallya's loan was allowed in 2010 contrary to rules.
'Why was a second restructuring of Vijay Mallya's loan allowed in 2010 contrary to the rules? At whose behest did the RBI direct the SBI to grant this restructuring,' he asked.
He said he could understand why the Congress was becoming uncomfortable when the banking system was being made transparent and accountable.
'Remember from 1947 to 2008 Rs 18 lakh crore bank loans were disbursed, which increased to Rs 52 lakh crore by 2014 under UPA-II led by the Congress...
'This comes after the visit of Rahul Gandhi to London. Are Vijay Mallya and Rahul Gandhi working in tandem? Is the Congress keen to save Vijay Mallya who benefitted from the bank facilities during the UPA government,' Prasad tweeted.
He said the Congress sought to make an issue of exchange of 'just half a sentence' between the two, Prasad said.
Defence Minister Nirmala Sitharaman termed the Congress's demand of Jaitley's resignation as 'motivated', saying it is a strategy to deflect attention from UPA government's 'cronyism and favouritism'.
The defence minister told PTI that a brief conversation which Mallya had with Jaitley in a corridor of Parliament is being 'played up' and asserted that responses to the issue have 'reinforced' the fact it was not a conversation of any merit.
Jaitley, she noted, had already explained as to how Mallya misused his privilege as a member of Parliament to speak to him.
To a question about Congress MP P L Punia's claim that he had seen Jaitley sitting with Mallya in Parliament's Central Hall and there would be CCTV footage to corroborate it, Sitharaman shot back, asking if the footage would also have audio recording.
"It already seems a very motivated allegation," she said of the Congress' charge against Jaitley.
Hitting out at the Congress, she said letters were written to the RBI and State Bank of India during the UPA's rule to help Mallya.
"They are in tour face. How favouritism naming that one company has been made... Whose period made it sick? Whose period had favouritism and cronyism entering in to suggest to the central bank and written instructions given to banks to lend to this defaulter," she asked.
Look at the strategy with which Congress would want to deflect it, she asked wryly if that 'minutes' conversation' helped him to go away or all the lending happened (during the UPA rule) because of it.
Multiple loans were given to bogus accounts which did not have credit worthiness, she said.
The BJP leader said the Modi government had brought in a law through which defaulters' property can be confiscated.
The UPA government passed some laws but never made rules, she said.
Meanwhile, activist Shehzad Poonawalla claimed on Thursday that Gandhi met Punjab National Bank fraud accused Nirav Modi at a plush hotel in New Delhi in 2013. Poonawalla's charge was however denied by the Congress.
Poonawalla claimed the meeting took place during the same time when loans were given to fugitive diamantaire Mehul Choksi and his nephew Modi and asserted the SPG will have records to prove it.
'Open challenge to Rahul Gandhi to deny he met Nirav Modi in Sep 2013 cocktail party -11th Sep if my memory serves me right! Imperial Hotel- Rahul spent a long time! Same period when loans given to Mehul Choksi and Nirav Modi!! SPG may have records or let's undergo lie detector test?' he tweeted.
Poonawalla said he could swear on Quran and take a lie detector test to prove that he was speaking the truth.
'If PL Punia is proof of @arunjaitley meeting Vijay Mallya (and accosting = meeting) I can swear on Quran and undertake lie detector @RahulGandhi attended Nirav Modi cocktail party and bridal wear programme at Imperial Hotel Delhi in Sep 2013 while loans were wrongly given to mama-bhanja,' he claimed.