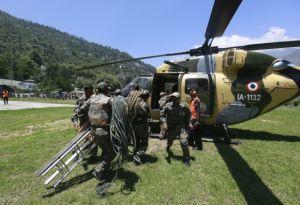 Even as the men in uniform continue their relentless efforts to provide succour to flood victims in the Kashmir Valley, their aircraft and boats are being targeted by stone pelters.
Some of the 80 IAF aircraft involved in relief and rescue operations across the flooded Srinagar city have suffered minor damage after they were targeted by stone pelters but the security personnel say they "won't give up" till help reaches all.
A rotary wing plane of the air force suffered damage during stonepelting during one of its sorties to undertake rescue operation in the city.
"There have been incidents when the helicopters flying at low altitude were targeted with stones and one of the helicopter was in fact hit by several stones causing some minor damage on the body and near the rotary wings," a senior Air force officer said.
The officer said that the helicopter, however, returned safely to the base where the damage was being assessed. The army too says that some of its boats deployed for relief and rescue operations were attacked by stone pelters.
"It is unfortunate that the people who are trying to save them are being attacked, but we will not give up and will continue with our work till help does not reach to every single soul," said Air Marshal S B Deo, Director General of Air Operations.
There have been reports that at certain places people are being instigated by separatists to target and disrupt the relief and rescue work being undertaken by the air force and the army.
Deo said that he could understand that there was anger amongst the people and he has empathy for those who lost everything in the floods.
"We are doing our duty for which we have deployed more than 80 aircraft and as you can see in every three minute a plane takes a sortie. We are not going to give up," Deo said.
Jammu and Kashmir Chief Minister Omar Abdullah too has condemned the targeting of the army and air force personnel who are engaged in the relief and rescue operations across the Valley and appealed to the "disruptive elements" to allow these operations.
"These disruptive elements are fishing in the troubled waters, they must not become impediments in the relief and rescue work being carried out by different agencies.
"They will get plenty of time afterwards," Omar said.
Image used only for representational purposes