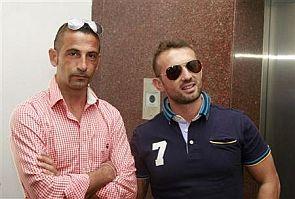 Amid concerns by Italy on the possibility of death sentence being imposed on its two marines accused of killing Indian fishermen, India has said that no question of death penalty arises.
Clarifying the latest Supreme Court order in the matter in which the apex court allowed NIA to probe the case against Italian marines, official sources said the order had been read out of context leading to misleading reports.

Noting that Suppression of Unlawful Acts Against Safety of Maritime Navigation Act 2002 has not been invoked, official sources said "in any case no question arises of death penalty being imposed in the circumstances of the case if the court was to return a verdict of guilty".
External Affairs Minister Salman Khurshid has had consultations with Home Minister Sushilkumar Shinde and other senior legal officials including the Attorney General in the matter.


The Supreme Court had on Friday allowed NIA to probe the case against the two Italian marines and asked the special court to conduct the trial on a day-to-day basis after the charge sheet is filed.
Sources said it is clear from the latest order that the judgement of January 18 remains in operation and that the NIA has been designated by the central government to investigate the matter pursuant to the January 18 judgement rather than the NIA Act.
They added the FIR dated August 29 last year and registered in Kerala's Kollam will be the basis for the investigation.
"It follows that the later FIR re-registered by the NIA under the NIA Act is redundant and for the present the Suppression of Unlawful Acts Against Safety of Maritime Navigation Act 2002 has not been invoked," they said. PAL