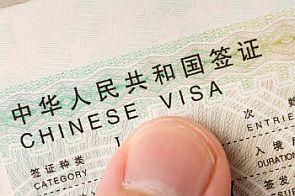 The recent stapled visa issue involving two Indian sports persons from Arunachal Pradesh may have just thrown cold water over India and China's efforts to liberalise the visa regime. Rediff.com's Sheela Bhatt, who is accompanying Prime Minster Manmohan Singh on his visit to Beijing, reports.
"We will not allow someone from Arunachal Pradesh to be treated differently. Why should they (the Chinese government) make such a differentiation?" asked a top government source on Tuesday while clarifying the Indian administration's position on China's insistence on giving stapled visas to people from Arunachal Pradesh and Jammu and Kashmir.
On the eve of high-level talks between Prime Minister Manmohan Singh and his Chinese counterpart Li Keqiang in Beijing, the border issue and the differing perception of India and China over the border areas they hold is set to dominate exchanges.
In fact, India and China were set to liberalise the visa regime during Dr Singh's visit but the finalisation of the new visa policy was delayed after the latest incident involving two Indian sports persons from Arunachal Pradesh who were issued stapled visas and had to stay back in India.
Officially, India still says, "We are working on the new visa policy."

But India is irked that the stapled visa issue erupted just before the PM's visit. The high-level source in the government told rediff.com that they do not know at this juncture whether it was done knowingly or unknowingly by Beijing, but "It was a silly thing to do."

In fact, the Indian government's view is that the entire stapled visa issue has created "great confusion."
When asked specifically if the stapled visa issue will be resolved only after the final solution of the India-China border issue, the source said that this question should be put before the Chinese government.

Giving his own assessment, he said (interestingly), "I think there is a great confusion about the issue. The Chinese survived without stapled visas for all these years. They never issued stapled visas from the 1950s through to the 1990s. Now how come it has become essential to issue staple visa to Indians from Arunachal Pradesh?"
He said that the Indian side is also reacting differently on the issue that it did in the past. Indians were accustomed to stapled visa while travelling to Israel when the country was not yet recognised. Even Indian visitors to Taiwan and South Africa used to accept stapled visa for practical reasons. Indians have been practical because it is a standard operating procedure in a certain situation.
"Now Indians are suddenly shocked that such a thing even exists," the source said.
He said the stapled visa controversy cuts both ways.

When Indians make noises about the stapled visa they are giving impression that there is an 'issue' about the status of some region of India. On the other hand, when the Chinese government issues stapled visa it does not make any difference to the actual position or facts of the issue.

If the Chinese do not give stapled visas, it does not take away the argument they want to make. The source asked, "Why should there be such a fuss over a stapled visa? When we make so much fuss, we give them leverage."