With United States President Barack Obama firmly backing New Delhi's candidature for membership of the elite Nuclear Suppliers Group, US Ambassador to India Richard Verma on Wednesday said the former is very supportive of India's accession in all the four export control regimes, including the NSG, and is going to work hard to achieve the target.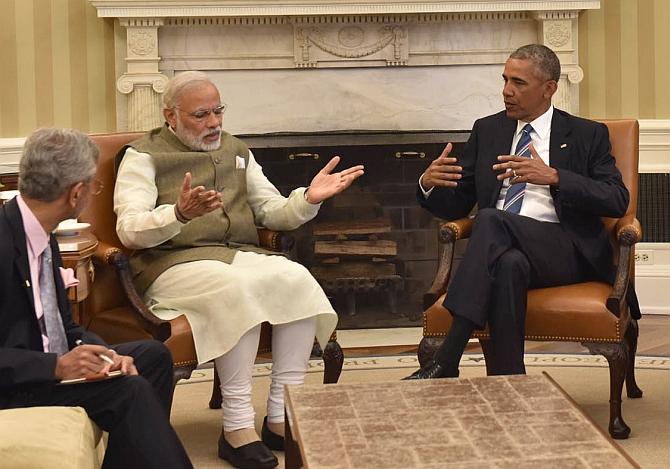 The statement came after the members of the Missile Technology Control Regime on Tuesday agreed to include India in to the group.
"We think the MTCR membership is eminent and we spent a lot of time talking about NSG membership and the President is very strongly supportive of India's accession in to all the four export control regimes including the NSG, we are going to work really hard on that," Verma told ANI.
Verma further said that Prime Minister Narendra Modi's visit to the US was of great significance as it churned out lot of important outcomes.
"I think it was a great visit. Lot of really important outcomes from civil nuclear cooperation to defence, identifying India as a major defence partner to commitments on clean energy, in the economic area opening up new consulates, I think it has something for everyone. And the two leaders spent a lot of time together talking about not only in context of what is happening today but also discussed the future where they want the relationship to go. So it has been a terrific visit so far," said Verma.
Elucidating the blooming defence camaraderie between the two nations, Verma said, "India is now major defence partner and it's a special designation for India. We want to recognise how important this relationship is. It involves higher level of technology transfer and higher level of cooperation. So I think that's a big part of the progress we made. And I am really glad that we are able to make that announcement today."
In a joint statement issued after the third major bilateral summit between Prime Minister Modi and President Obama, the US called on 'NSG Participating Governments' to support India's application when it comes up at the NSG Plenary later this month.
Nisha Biswal, Assistant Secretary of State for South and Central Asian Affairs in the US State Department said New Delhi has 'by-and-large' met the criteria to join the NSG and the MTCR, and countries do not have any reservation for India's entry.
'India is ready for NSG, MTCR membership'
She said President Obama's 'robust support' shows the India is ready for membership in the NSG.
"On MTCR we are pretty much at the point where the countries who are members of the MTCR have said that the India has met that criteria. There are some technical processes that have to unfold but by and large India has met the criteria and countries have removed any reservation for that, so that is a move forward," Biswal said.
"(On NSG) The President has voiced his very robust support that he believes India is ready for and should be considered for membership in the NSG and that process will unfold and we're committed to doing our part," she added.