Three suspected Islamic State group suicide bombers targeted the international terminal of Istanbul's Ataturk airport, killing at least 41 people and wounding many others, Turkish officials said.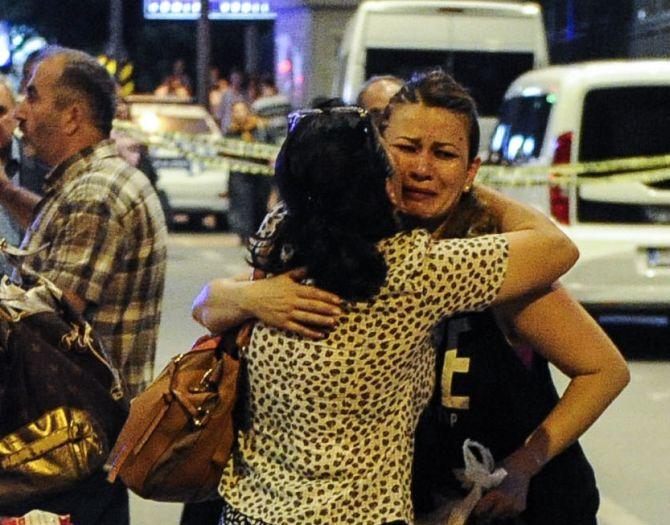 IMAGE: Passengers who survived from the suicide bomb attack cry as they leave the Turkey's largest airport, Istanbul Ataturk. Photograph: Gokhan Tan/Getty Images
The bombing left 41 people dead, 13 of them foreign nationals, and 239 wounded, the city governor said in a statement.
The governor's office said 109 of the 239 wounded were discharged from hospital.
It said 13 of the dead were foreigners.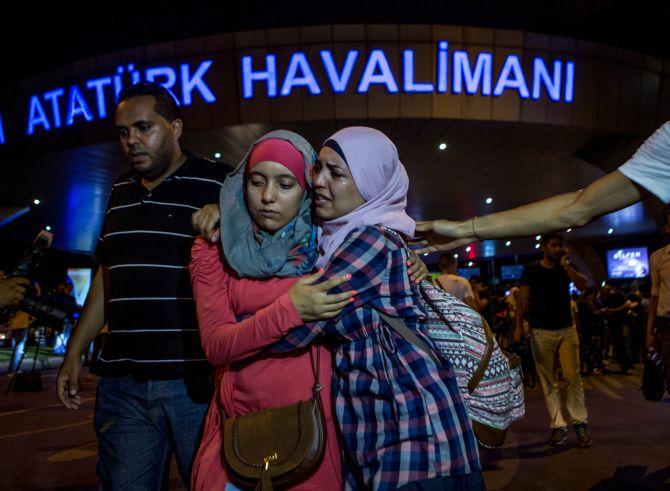 IMAGE: Passengers leave Istanbul Ataturk, Turkey's largest airport, after a suicide bomb attack. Photograph: Defne Karadeniz/Getty Images
A Turkish official, speaking on condition of anonymity, said five of the dead were from Saudi Arabia, two were from Iraq, and one from Tunisia, Uzbekistan, China, Iran, Ukraine and Jordan.
No one has claimed Wednesday's attack yet but Turkish authorities said they suspect Islamic State jihadists.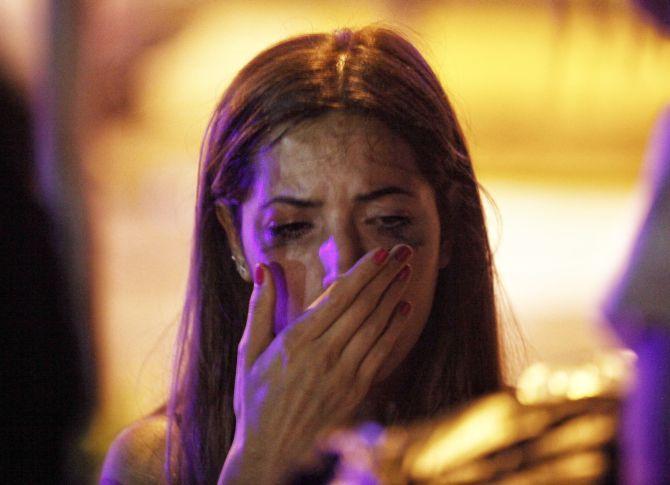 IMAGE: A relative of the Ataturk Airport suicide bomb attack victim waits outside Bakirkoy Sadi Konuk Hospital as she cries. Photograph: Defne Karadeniz/Getty Images
The senior official, who spoke on condition of anonymity in line with government protocol, at first said close to 50 people had already died, but later said that the figure was expected to rise to close to 50.
Yildirim said three suicide bombers were responsible for the attack and all initial indications suggest the Islamic State group was behind it.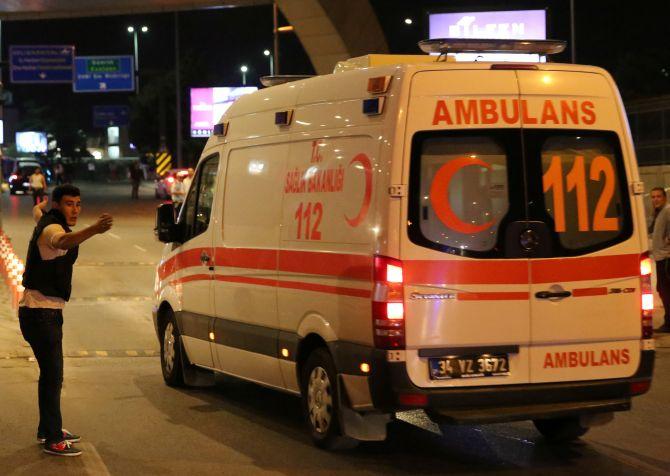 IMAGE: A policeman gestures in front of an ambulance at Istanbul Ataturk airport, Turkey, following a blast. Photograph: Goran Tomasevic/Reuters

He said the attackers arrived at the airport in a taxi and blew themselves up after opening fire. Asked whether a fourth attacker might have escaped, he said authorities have no such assessment but are considering every possibility.
The victims included some foreigners, he said, adding that many of the wounded have minor injuries but others are more badly hurt.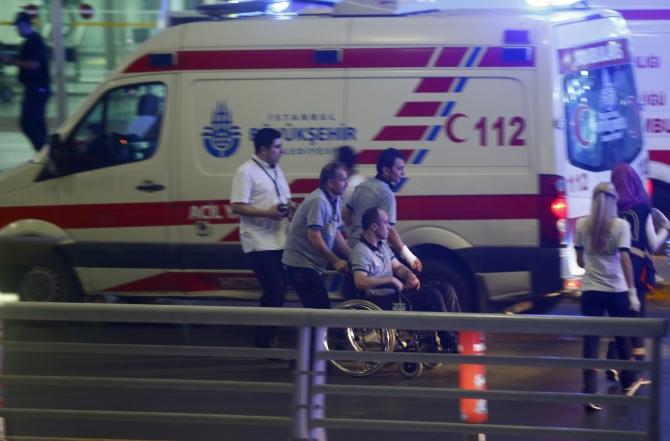 IMAGE: Paramedics help a man in a wheelchair at Turkey's largest airport, Istanbul Ataturk, Turkey. Photograph: Osman Orsal/Reuters
Another Turkish official said two of the attackers detonated explosives at the entrance of the international arrivals terminal after police fired at them, while the third blew himself up in the parking lot.
The official, who also spoke on condition of anonymity in line with government protocol and cited interior ministry information, said none of the attackers managed to get past security checks at the terminal's entrance.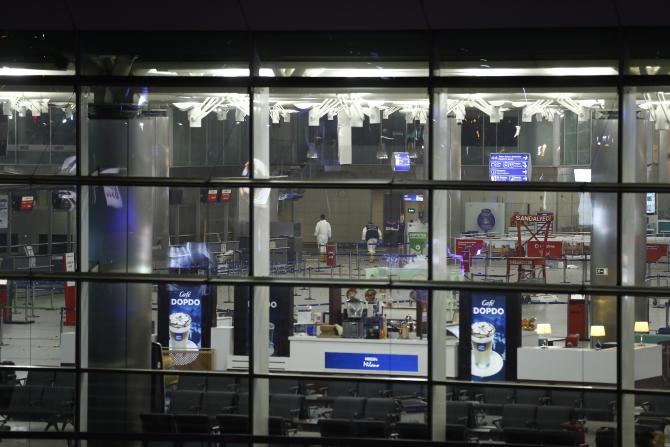 IMAGE: Officials walk inside Istanbul Ataturk, Turkey. Photograph: Osman Orsal/Reuters
Turkish airports have security checks at both the entrance of terminal buildings and then later before entry to departure gates.
Roads around the airport were sealed off for regular traffic after the attack and several ambulances could be seen driving back and forth. Hundreds of passengers were flooding out of the airport and others were sitting on the grass. Hevin Zini, 12, had just arrived from Duesseldorf, Germany, with her family and was in tears from the shock.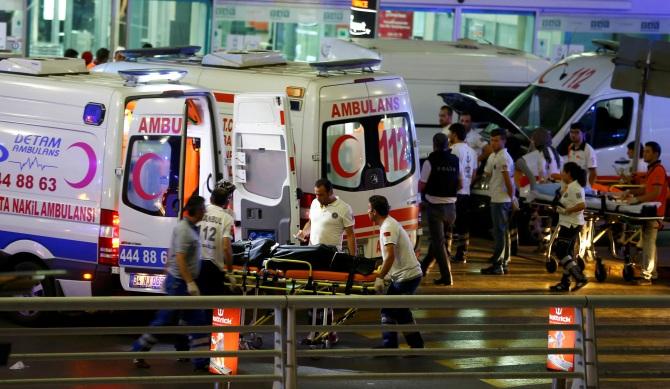 IMAGE: Paramedics push a stretcher at Istanbul Ataturk, Turkey. Photograph: Osman Orsal/Reuters
"There was blood on the ground," she told The Associated Press. "Everything was blown up to bits... if we had arrived two minutes earlier, it could have been us."
South African Judy Favish, who spent two days in Istanbul as a layover on her way home from Dublin, had just checked in when she heard an explosion followed by gunfire and a loud bang.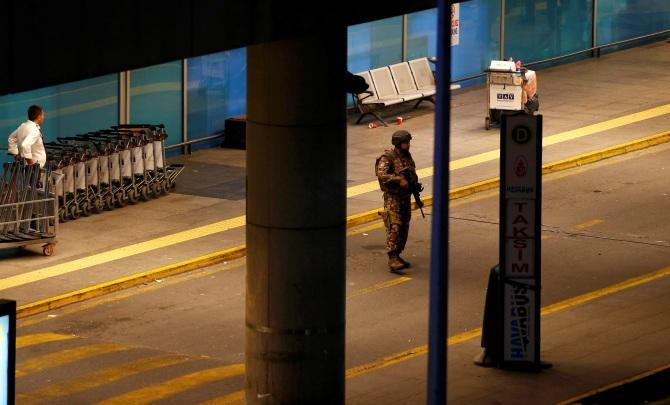 IMAGE: Armed security walks at Istanbul Ataturk, Turkey. Photograph: Osman Orsal/Reuters
She says she hid under the counter for some time.
Favish says passengers were ushered to a cafeteria at the basement level where they were kept for more than an hour before being allowed outside.
The private DHA news agency said the wounded, among them police officers, were being transferred to BakirkoyStateHospital.
Turkey remains on high security alert after a series of attacks on its soil blamed not only on the IS group but also Kurdish militants.
IS has never claimed an attack in Turkey. But authorities have blamed the grouo for several attacks, including a blast in Ankara in October 2015 that left over 100 people dead and an attack on Istanbul's busy tourist district Istiklal Street which killed three Israelis and an Iranian.