It is expected to be a shot in the arm for the armed forces.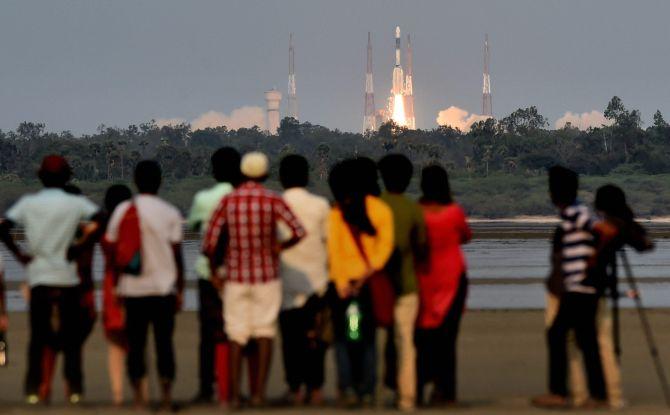 India on Thursday successfully put into orbit its latest communication satellite GSAT-6A after a perfect launch of its powerful geosynchronous rocket that will help in mobile communication even from very remote locations through hand-held ground terminals.
Scripting yet another success for the Indian Space Research Organisation, the 49.1 metre Geosynchronous Satellite Launch Vehicle (GSLV-F08), fitted with indigenously developed cryogenic engine at the third stage, lifted off from the Satish Dhawan Space Centre in Sriharikota at 4.56 pm and soared majestically into the clear sky at the end of the 27-hour countdown.
The satellite, with a mission life of about 10 years, would provide a thrust to mobile communication through multi-beam coverage facility, the ISRO said. It is expected to be a shot in the arm for the armed forces.
In a text-book launch, about 18 minutes later, the rocket injected the GSAT-6A into the geostationary transfer orbit as ISRO scientists broke into celebrations at the mission control centre.
Prime Minister Narendra Modi congratulated ISRO on its successful space mission.
'Congratulations to ISRO and other stakeholders on the successful launch of GSLV-F08 with indigenous cryogenic stage,' he tweeted.
'GSAT-6A, a communication satellite, will provide new possibilities for mobile applications. Proud of ISRO for taking the nation towards new heights and a brighter future,' the PM's twitter handle said.
ISRO chief K Sivan said the fifth successive successful launch of GSLV with indigenous cryogenic stage successfully placed the high power S-band communication satellite in the 'designated orbit precisely'.
GSAT6A was a complement to GSAT6, which was already in orbit, and these two satellites combined will provide a platform for development of advanced technologies, he said.
This is the first mission for Sivan, who assumed charge of the space agency in January.
Right from the core stage ignition to the GSAT-6A satellite separation, the entire launch was completed within the scheduled mission duration as the space agency had yet another precise launch.
This is the 12th flight of GSLV rocket and the sixth with indigenous cryogenic upper stage.
The 2,140-kg GSAT-6A is a high power S-band communication satellite and would complement the services being provided by GSAT 6 since its launch in 2015.
It will be a technology demonstrator for high power S-band transmission from the satellite for supporting two-way communication, according to the ISRO.
The satellite will also provide a platform for developing technologies such as demonstration of 6 m S-Band Unfurlable Antenna, hand-held ground terminals and network management techniques that could be useful in satellite-based mobile communication applications.
The ISRO had made significant improvements in the GSLV Mk-II rocket including induction of high thrust Vikas engine in the second stage.
The three-stage launch vehicle weighing 415.6 tonnes also was deployed with electromechanical actuation system in place of electro-hydraulic actuation system for much better reliability.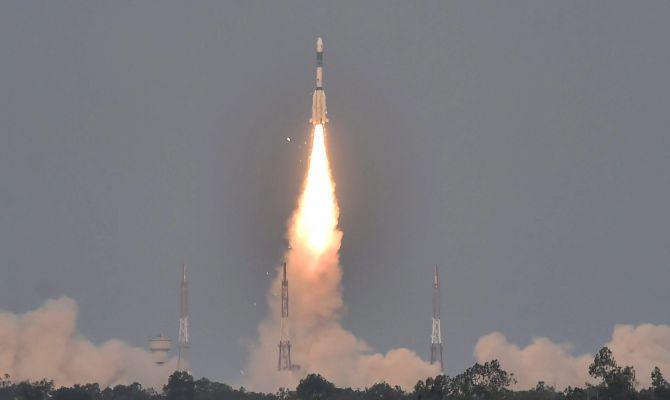 A jubilant S Somanath, Director, Vikram Sarabhai Space Centre, said the GSLV F08, the 'naughty boy tamed by Sivan (was) behaving well in this mission'.
The geosynchronous rocket was dubbed 'a naughty boy' after some of its earlier launches had failed. The satellite was put in a very good orbit which will ensure long service, he added.
P Kunhikrishnan, Director, SHAR, described Thursday's launch as a 'magnificent mission'.
Sivan's first assigment as ISRO chief happened to be an 'important' one, he said.
In January, the space agency had successfully launched its 100th satellite along with 30 other spacecraft including weather observation Cartosat 2 series onboard its Polar rocket from Sriharikota.
That launch included 28 satellites from foreign countries and the successful mission had put behind the rare setback ISRO suffered after the failure of the PSLV-C39 mission in August last year.
The ISRO has lined up a host of 'very high profile missions', including Chandrayaan-2 and demonstration of human space programme this year, Sivan said.
"Lot of work is in front of you (scientists). Definitely you will be doing it. I do not have any doubt on that... the missions we are planning this year, all 10 missions are very high profile missions," Sivan said.
Listing the missions, he said, "Chandrayaan-2 is going to land on Moon and rover will be roving on the Moon."
"Then we are going to have (launch of) high power, high bandwidth communication satellite to provide high bandwidth connectivity to remote places of India.
"We are going to have one demonstration of human space programme technology development also (this year)," he said.
The ISRO had said recently that the launch of India's second lunar mission Chandrayaan-2, slated for next month, has been put off to October as some tests have been suggested by experts.
Sivan said the ISRO would also launch a couple of remote sensing satellites including IRNSS-1I over the next few weeks.
GSLV-FO8 Mission Director Mohan said Thursday's successful launch was a very significant milestone in GSLV programme as the new technologies would lead to enhancement of payload to more than 2.5 tonnes in near future.
"The thrust uprightment of the second stage and full utilisation of cryostage propellant are two significant technologies demonstrated today," he said.
Photographs: R Senthil Kumar/PTI Photo