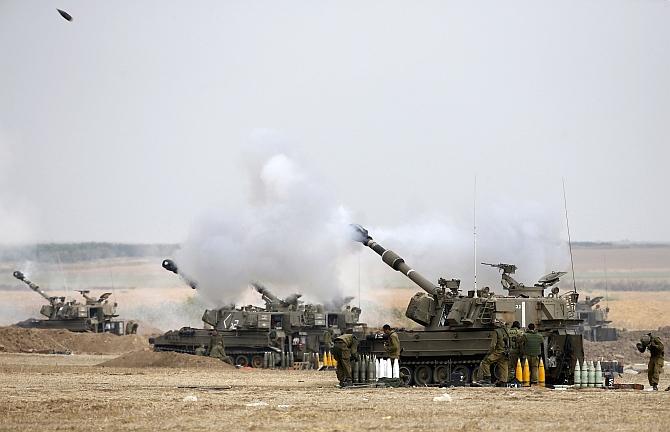 Israel on Tuesday bombed several mosques, a hospital and a stadium in Hamas-ruled Gaza even as international efforts intensified to broker a ceasefire to end the 15-day conflict that has killed 620 Palestinians and 29 Israelis.
As the death toll mounted, the United States and the United Nations appealed to both sides to end the hostilities that have claimed the live civilians, including children. US Secretary of State John Kerry and UN chief Ban Ki-moon are in Egypt to try to arrange a ceasefire.
The Israel Defence Forces struck some 190 terrorist targets over the past 24 hours in the Gaza Strip, including over 100 in Shejaia. However, Israeli Justice Minister Tzipi Livni ruled out any ceasefire until the IDF finishes an operation aimed at destroying tunnels used by militants for cross-border attacks.
Several mosques, a stadium and a hospital were destroyed in Tuesday's strikes. Israel launched its ground operation in Gaza after days of air strikes, following rocket fire by militants into Israeli towns.
Israel said the move was necessary to target Hamas' network of tunnels, which have been used by militants to get into Israel and carry out attacks. "First of all, it won't happen before we really finish the tunnels project which was laid out as a strategic objective," Livni said.
At least five persons were killed and 70 others injured in the Israeli strike on a hospital in Gaza, Palestinian health ministry sources said, adding that several doctors were also wounded in the attack.
The IDF said it had targeted a cache of anti-tank missiles in the hospital's "immediate vicinity". Over 30 members of two Palestinian families also died in Israeli strikes overnight, Gazan health officials said.
The IDF announced that nine soldiers were killed on Monday, raising the number of Israeli military fatalities since the operation commenced to 27. Two Israeli civilians have also been killed.
One of the IDF soldiers classified as "missing" in Gaza was declared dead. However his body is still missing. So far, 620 Palestinians have been killed and more than 3,700 wounded since Israel began its Operation Protective Edge on July 8, Gaza health ministry officials said today.
It was unclear how many of the dead were militants, but the United Nations has estimated that between 70-80 per cent were civilians, including at least 120 children. Israel said that its forces have killed more than 180 militants.
UN agencies working in Gaza said that more than 100,000 Gazans have now been displaced and have sought shelter in UNRWA facilities where providing basic necessities "is an impossible challenge".
"Civilian casualties are a tragic inevitability of (Hamas') brutal and systematic exploitation of homes, hospitals and mosques in Gaza," the IDF said in a statement.
It said that approximately 131 rockets and mortars were fired at Israel yesterday, of which at least 108 hit Israel and 17 were intercepted. Al Jazeera claimed that its bureau office and other press centres in Gaza have been attacked, a charge denied by Israel.
Meanwhile, some Arab TV stations on Monday night quoted unnamed Palestinian sources as saying that a humanitarian ceasefire may be announced in Cairo on Tuesday.
The sources claimed that Hamas leader Khaled Mashaal was expected to arrive in Cairo for the announcement. Mashaal held ceasefire discussions with Palestinian Authority President Mahmoud Abbas in Qatar on Monday in what is the first meeting of its kind since the beginning of the current round of fighting.
Abbas is said to have emphasised the need for all parties to abide by the recent Egyptian ceasefire initiative, which Israel had accepted but Hamas rejected. A close aide to Abbas, Nabil Abu Rudaineh, reiterated the PA leadership's call for an immediate ceasefire, saying this would "achieve the national goals of the Palestinian people".
However, former Hamas Prime Minister Ismail Haniyeh in a televised speech in Gaza said that his movement has decided to "end the blockade with its blood and weapons and there would be no return back."
"This siege, this unjust siege, must be lifted," he said. Outlining Hamas' conditions for a ceasefire, Haniyeh said that it must also include ending the blockade and Israeli "aggression" on Gaza and the release of former Palestinian prisoners who were re-arrested by Israel in the recent weeks. He also denounced Arab "silence" toward the war in Gaza. "The silence of the Arab regimes has emboldened the enemy and given it a cover to perpetrate more crimes," he charged.
Meanwhile, Israel's Prime Minister Benjamin Netanyahu told CNN that any ceasefire agreement is possible only if it brings "sustainable quiet". "We'll stop our operations when we can bring back quiet to our people," he said. The US said it would provide $47 million in humanitarian assistance to Gaza. US President Barack Obama said on Monday that he has instructed Kerry to "push for an immediate cessation of hostilities."
The UN Security Council has issued a call for an "immediate cessation of hostilities", but did not endorse a strongly worded draft resolution backed by Arab states.