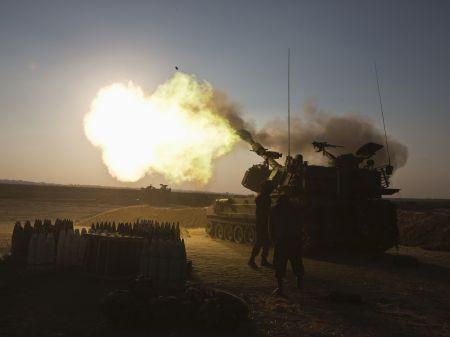 Amid frantic diplomatic efforts to put an end to bloodshed in Gaza, a defiant Israel on Thursday pressed on with its relentless bombardment of Hamas-ruled territory as the raging conflict that has killed about 750 Palestinians and 34 Israelis showed no signs of abating.
Israel focused its attacks on southeast of Gaza, with residents fleeing areas which came under heavy bombing.
Over 50 people were killed in Gaza today, taking the overall Palestinian toll to 746 since Israel launched its military offensive to halt rocket fire by Hamas on July 8.
In the latest incident, seven Palestinians were killed in a series of Israeli air strikes and tank fire in a flashpoint area near Khan Yunis in southern Gaza.
The latest casualties, included a family of six with two young children, killed in an Israeli air strike in the south of the Gaza Strip.
Israeli forces have destroyed at least 475 houses while 2,644 have been partially damaged. Some 46 schools, 56 mosques and seven hospitals had also suffered varying degrees of destruction, Palestinian officials said.
Thirty two Israeli soldiers, two civilians and a Thai worker in Israel have also been killed in the conflict.
As the death toll mounted, UN Human Rights Council on Wednesday ordered a probe into Israel's offensive on Gaza.
India along with Brazil, Russia, China and South Africa voted in favour of the Palestinian-drafted resolution on "Ensuring Respect for international law in the Occupied Palestinian Territories, including East Jerusalem".
Israel's close ally US was the only one of 47 member states to oppose the probe supported by 29 countries.
Describing UNHCR as a "kangaroo court", Israel slammed the move as a "travesty".
"This investigation by a kangaroo court is a foregone conclusion," the Prime Minister's Office said.
Taking a dig at the UNHCR decision, Israel's Foreign Minister Avigdor Liberman labeled the UN body as the "council for the rights of terrorists".
Prior to the vote, the UN High Commissioner for Human Rights Navi Pillay warned that Israel could be committing war crimes in Gaza.
Meanwhile, US airlines have lifted a flight ban to Israel. The ban was lifted just hours after US Secretary of State John Kerry wrapped up talks in Jerusalem and Ramallah and returned to Cairo to continue pushing regional efforts for a truce.
Kerry also spoke by phone with the foreign ministers of Qatar and Turkey.
Speaking after meeting UN Secretary General Ban Ki-moon, who is also in the region, Kerry said: "We have certainly made some steps forward, but there is still work to be done."
UN humanitarian chief Valerie Amos expressed deep concern over the mounting civilian casualties in Gaza, warning that it was "almost impossible" for Palestinians to shelter from Israeli airstrikes.
"The reality in Gaza is, it doesn't matter how hard Israel tries to minimise harm, this is an extremely overcrowded stretch of land," Amos told BBC radio.
"Forty-four per cent of that land has been declared a no-go zone by the Israeli army so there aren't that many places for people to go," she said.
Israeli Prime Minister Benjamin Netanyahu said he regretted each Palestinian civilian death, but held Hamas responsible for the casualties.
He was standing beside UK Foreign Secretary Philip Hammond, who said the cycle of violence had been triggered by Hamas "firing hundreds of rockets at Israeli towns and cities indiscriminately".
Hammond also emphasised that the UK was "gravely concerned by the ongoing heavy level of civilian casualties."
The Israeli leader was deeply critical of a vote by the UN Human Rights Council for an official investigation into alleged war crimes in Gaza, describing the decision as "grotesque" and "a travesty of justice".
Meanwhile, Hamas leader Khaled Meshaal said there could be no ceasefire to ease the conflict in Gaza without an end to Israel's blockade.
"We will not accept any initiative that does not lift the blockade on our people and that does not respect their sacrifices," he said.
Israel imposed restrictions on the Gaza Strip in 2006 after Hamas abducted Israeli soldier Gilad Shalit. The measures were tightened by Israel and Egypt in 2007 after Hamas ousted rival Fatah and forcibly took control in Gaza after winning elections the year before.
Hamas and Fatah announced a reconciliation deal in April, but the move was condemned by Israel which regards Hamas as a terrorist group.
Israel's Science Minister Yaakov Peri told Israeli web portal Walla that he did not see a ceasefire in the coming days, as the Israel Defence Forces needed more time to dismantle Hamas' underground tunnel network.
Image: An Israeli mobile artillery unit fires towards the Gaza Strip. Photograph: Nir Elias/Reuters