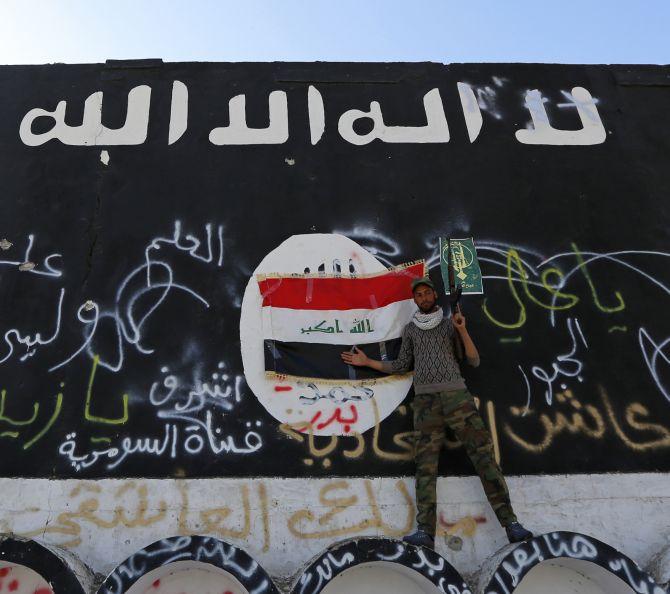 A member of militias known as Hashid Shaabi stands next to a wall painted with the black flag commonly used by Islamic State militants, in the town of al-Alam. Photograph: Thaier Al-Sudani/Reuters
The Islamic State rakes in over US $1 million (Rs 6.4 crore) per day in extortion and taxation and the dreaded terror group has enough assets to cover its expenses despite falling oil prices, according to a media report.
The group minimises costs by looting military equipment, appropriating land and infrastructure and paying relatively low salaries, a report in The New York Times said citing analysts at the RAND Corporation, a non-profit organisation that researches public policy.
According to the analysis, the terror group collected over US $1.2 billion (Rs 7800 crore) in 2014. The breakdown states that the Islamic State raked in US $600 million (Rs 3840 crore) from extortion and taxation, US $500 million (Rs 3200 crore) from robbing state-owned Iraq banks and only US $100 million (Rs 640 crore) from oil infrastructure.
The group also limits its vulnerability by shifting operations, transitioning between expanding its territory and fuelling terrorist activity, the report said.
The Islamic State has revenue and assets that are more than enough to cover its current expenses despite expectations that airstrikes and falling oil prices would hurt the group's finances, according to the analysts at RAND Corporation.
The Islamic State takes in more than US $1 million per day in extortion and taxation. Salaries of Iraqi government employees are taxed up to 50 per cent, adding up to at least US $300 million (Rs 1920) last year, the report said.
Companies may have their contracts and revenue taxed up to 20 per cent, it said.
As other revenue streams have stalled, like banks and oil, the Islamic State has adjusted these rates to make taxation a larger portion of its income, it added.
The Islamic State's oil infrastructure, especially refineries, has been targeted by the US-led airstrikes. Oil revenue has fallen to about US $2 (Rs 12.8 ccrore) million per week, but the group is not dependent on oil income. Much of the production is used for its own fuel. Past oil sales show that the Islamic State was already selling oil at deep discounts that fluctuated among local markets -- for instance, selling oil for less in Kirkuk than in Mosul, the report said.
The largest expenditure made by the group is salaries, which is estimated to be between US $3 (Rs 19.2 crore) million and US $10 (Rs 64 crore) million every month, it said.
The Islamic State also invests in police-state institutions, such as committees, media, courts, and market regulation but provides relatively few services.
The group avoids investment in infrastructure because it can be an easy target for attacks, and the territory it holds can change quickly, the report said.
The Islamic State's loss of ground in Tikrit last month has not stopped it from launching attacks in other parts of Iraq and Syria and taking the Iraqi city of Ramadi this weekend.