In the first incident of its kind in Assam, some Islamic clerics have issued a fatwa banning a prominent teenaged singer of the state from performing in any public entertainment event, dubbing them as "anti-Sharia."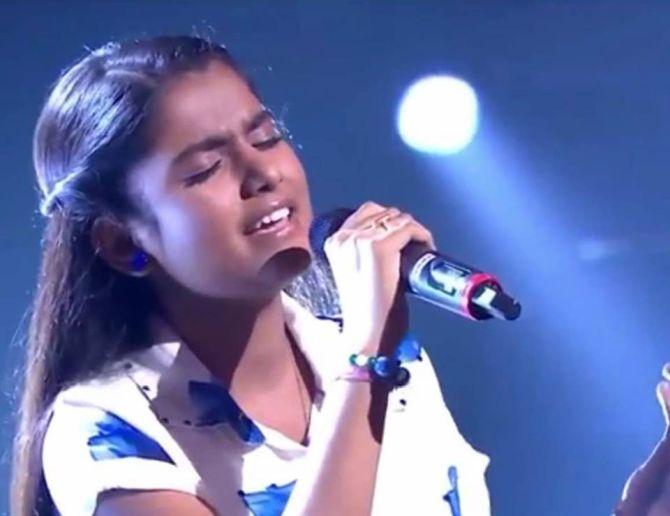 The fatwa asked the musical reality TV show 'Indian Idol junior' finalist Nahid Afrin from Assam to keep away from a musical programme, to be held on March 25, saying that the event is "against Sharia."
The diktat was circulated through pamphlets which was widely distributed on Tuesday among public across Hojai and Nagaon districts in central Assam.
Printed in Assamese and carrying names of 46 clerics, organisations and individuals, the leaflets asked 16-year old Nahid to keep away from entertainment events saying they "corrupt" future generations and make them liable to "Allah's wrath."
The leaflet said, "Magic, dance, drama, theatre, etc are against Sharia laws. Events like musical shows are against Sharia law and future generations will be corrupted by it."
"If anti-Sharia acts like musical nights are held on grounds surrounded by masjids, idgahs, madrassas and graveyards, our future generations will attract the wrath of Allah," the pamphlets read.
The class X student and musical sensation from the state was scheduled to participate in a musical show to be held at Udali Sonai Bibi College in Lanka area of Nagaon district on March 25.
On hearing of the 'fatwa,' Nahid, who lives in Biswanath Chariali, initially broke down and said "I am speechless."
She, however, regained her confidence and composure and told the media on Wednesday, "I think my music is God's gift to me. I will never bow to it (such warnings) and never leave singing".
Taking note of the leaflets, the police said the matter is being investigated.
It is also being ascertained if the fatwa is in reaction to Nahid recent songs against terrorism and the Islamic State, said a police officer.
Nahid and her family would be provided security cover, he added.
Assam Chief Minister Sarbananda Sonowal too called up the young singer assuring her of safety and security following reports of the threat to her Nahid.
Nahid, the Indian Idol Junior 2015 first runner-up held her ground.
"I was shocked and broken at first, but many Muslim singers gave me inspiration not to quit music. I will never do so."
"Being a practising Muslim, I do not believe singing is anti-Islam," she said.
"I have learnt Arabic, our holy scriptures along with learning to sing Borgeets (lyrical songs set to ragas composed by 15th–16th century Assamese Vaishnavite saint-scholar, social-religious reformer Srimanta Sankardeva and his disciple Madhavdeva)," she said.
"My singing is gift of God. I believe it must be properly utilised, not doing so would be ignoring God," she said adding "My father too told me our religious leaders said I can continue singing."
Quawali, Zikir (devotional songs sung by Muslims in Assam) are composed within the seven notes included in sa re ga ma, she said.
"A singer has no barrier of language or religion," asserted the young singer whose beautiful renditions of Borgeets have especially endeared her to the people of Assam.
Meanwhile, Nahid's mother said the organisers of the March 25 musical night had told her family that the programme will not be cancelled because of the fatwa.
Nahid had made her Bollywood debut last year singing in the film 'Akira' for Sonakshi Sinha who as a judge in the TV reality show had promised to have Afrin to do playback singing for her in her next movie, her mother said.
Meanwhile, some of those named in the leaflet have denied they are part of the fatwa claiming their names were included without their consent.
Coming out in support of Nahid, several prominent personalities from the minority community, students and ethnic organisations as well as ULFA faction in peace talks with the Centre, have condemned the fatwa and urged Nahid to continue singing fearlessly.