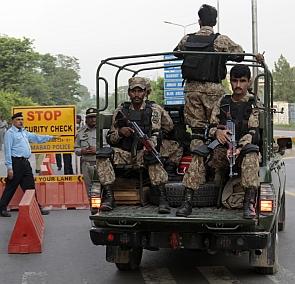 As Pakistan celebrated its Independence Day on Thursday, the fear of violence loomed large with the capital turned into a fortress ahead of two massive anti-government rallies, demanding the resignation of Prime Minister Nawaz Sharif and fresh elections.
The two groups, led by cricketer-turned-politician Imran Khan and Canada-based cleric Tahir-ul-Qadri, plan to converge on Islamabad to press Sharif to call an early election little over a year after his landslide victory in the polls.
Both Khan and Qadri have announced to lead their protestors from eastern city of Lahore to the capital and stage a sit-in till the government resigns.
Khan wants the government's ouster over alleged rigging in last year's poll which his party Pakistan Tehreek-e-Insaf lost, while Qadri wants to bring a revolution in the country.
Sharif's government, bracing for the protests, has turned the capital into a fortress, sealing it off with shipping containers, barbed wires and digging trenches.
Almost every entry point to Islamabad has been blocked with nearly 25,000 police and paramilitary forces deployed to prevent anti-government protesters from entering the capital.
The heavily-guarded "red zone", which is home to Parliament, the president and prime minister's residences and foreign embassies, was bocked with containers and barbed wire.
The streets of Islamabad were largely deserted with almost all offices and shops closed on Thursday.
Many parts of Lahore have also been blocked off with containers to block the protesters amid fears that there could be clashes.
The government has also ordered the suspension of mobile phone services and wireless Internet services in several parts of Islamabad for an indefinite period.
In addition, about 5,000 Islamabad capital territory police and thousands of paramilitary soldiers have been deployed in the capital. Already the army has been called in Islamabad under a controversial order by invoking article 245 of the Constitution which authorises civilian government to summon armed forces in aid of the administration.
Sharif, in a last ditch effort to wean away the protestors, announced on Tuesday night to appoint a three-member commission of the Supreme Court to investigate fraud in the elections but Khan refused to back off.
Analysts believe that the government will survive the confrontation as military is not prepared to topple it as there are fewer options of replacement.
Khan's suggestion to appoint a government of technocrats to carryout reform ahead of next elections was criticised by his own colleagues and a senior party leader Javed Hashmi refused to join the protest. Later, Khan sent a delegation to him with commitment that he does not want army to takeover.
However, suspicions are looming large and clashes are feared if thousands of supporters try to scale the barricades and forcibly try to enter the capital.
Sharif's younger brother Shahbaz Sharif, Interior Minister Nisar Ali Khan and Army chief Raheel Sharif on Friday discussed the political situation in Rawalpindi, media reports said.
Meanwhile, the government started Independence Day festivities by holding a parade in the capital. The chiefs of three armed services were present when
Sharif took salute and addressed the participants.
"Let us pledge together that we will not allow anyone to inflict harm on supremacy of the Constitution, rule of law and continuity of democracy," he said in his address.

Image: An army truck goes through a security checkpoint on the approach to the parliament building in Islamabad. Photograph: Caren Firouz/Reuters