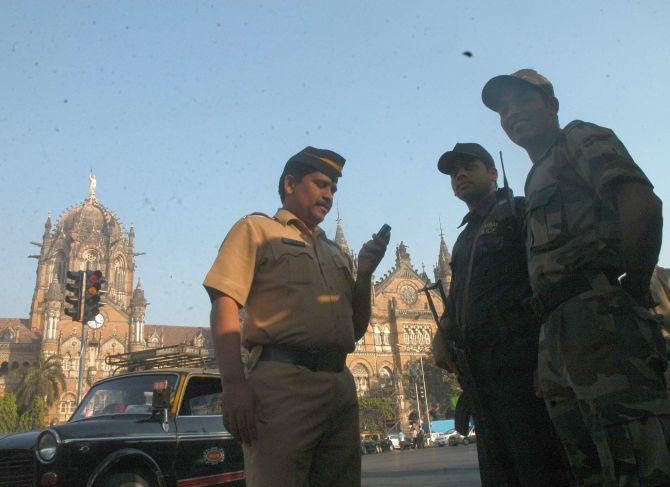 Want to live in Maharashtra, follow these eight rules or get jailed. Syed Firdaus Ashraf/Rediff.com on the proposed Maharashtra Protection of Internal Security Act.
Opposition parties are calling the draft Maharashtra Protection of Internal Security Act a draconian piece of legislation but the state government led by the Bharatiya Janata Party-Shiv Sena is calling it the need of the hour.
The MPISA will be tabled in the next session of the Maharashtra assembly, and is currently open to public feedback.
Syed Firdaus Ashraf/Rediff.com lists eight things that can get you jailed if the new law comes into force.
1. If you want to call an assembly of 100 people and more you will need to take permission from the Mumbai police. As the organiser you will be responsible for the safety and security of the people assembled.
And if the 100 people are assembled in a public place, then the organiser has to mandatorily provide for their CCTV coverage. And the footage must be stored for 30 days so the police can check it whenever they want.
One wonders if the rule will apply to a gathering like at a wedding, too, especially if it is conducted at a public venue with more than 100 in attendance?
2. 'Every owner or person incharge of any public establishment shall at all times provide and maintain public safety measures, as may be specified by the state police chief.
'The owner/manager should store the video footage of the public activities for 30 days.'
For instance, if you have a car parking contract in a public establishment, ensure that you install CCTV.
3. 'No person shall cause damage to any building, vehicle, machinery, apparatus or other property used or intended to be used for the purpose of government or any local authority; Other government properties like public transport including railways, aerial ropeway, metro/mono rail road and bridges, canal, ports, dockyards, lighthouses, aerodromes, airstrip or any installation for any public telecommunication; water storage, dam; water works; water supply pipeline, electricity sub-station, electricity generation plant or distribution network or any part thereof, sewage works, mine or factory.'
What this means is that political parties taking out morchas or labour unions going on a strike need to be careful. If their supporters damage any government property, they will be in deep trouble.
4. 'Any person who carries on his person or knowingly has in his possession or under his control any corrosive substance under such circumstances as to give rise to a reasonable suspicion can be arrested.'
'Unless the person does not prove that he was carrying it for some lawful work, he can be imprisoned for up to five years.'
If you are in chemical business this provision can set the police after you so ensure that you have proper licences in place.
5. 'Whoever obstructs, prevents or otherwise attempts to stop the police from making audio or video or electronic record of any activity performed by the police during discharge of their duties can be convicted with imprisonment up to five years.'
So if a cop is videotaping you, don't stop him.
6. If you are a ship/vessel owner, then be prepared for coastal security checks by the police.
Under this act if your ship is in the territorial waters of Maharashtra and the government has room for suspicion, be ready for a police check-up. Fishermen too, beware.
7. 'The Maharashtra police chief or his subordinate officer not below the rank of commissioner of police in the area of commissionerates can on reasonable suspicion regulate and move public transport vehicle, in any direction as he may determine.'
'For the purposes of this act the term "public transport vehicle" shall also include railways, metro/mono rail, aerial ropeways, ship, vessels and airplane.'
No questions on this point as the police commissioner is in charge.
8. Lastly, if you unlawfully take over any function or power of the police, you are in trouble.
You can be imprisoned for up to five years. You cannot impersonate the police even for fun.
Photograph: Sahil Salvi