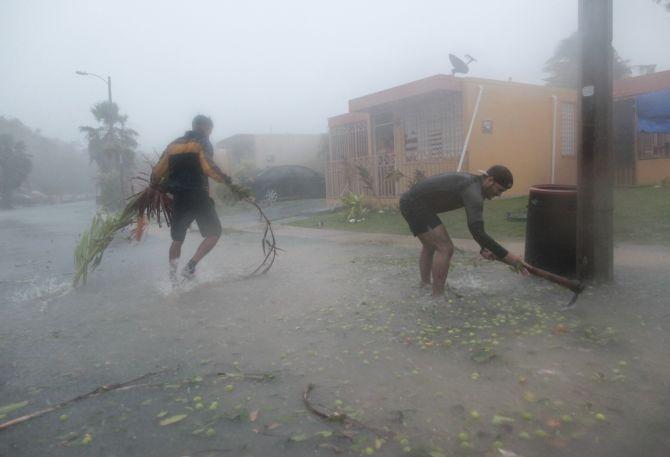 IMAGE: People pick up debris as Hurricane Irma howled past Puerto Rico after thrashing several smaller Caribbean islands, in Fajardo, Puerto Rico on Wednesday. Photographs: Alvin Baez/Reuters
United States' coastal state of Florida is bracing up for Hurricane Irma, one of the most powerful Atlantic storms in a century, that has devastated several smaller Caribbean islands with tree-snapping winds and drenching rains before making a landfall.
Irma, with top sustained winds of 185 miles per hour, was on track to make landfall in South Florida on Sunday, becoming the second major hurricane to hit the US mainland a week after Harvey devastated major parts of Texas impacting millions of people.
Florida Governor Rock Scott yesterday declared a state of emergency and issued orders for mandatory evacuation for people living in some parts of the state.
US President Donald Trump himself took stock of the situation and spoke with Scott and Mayors of some of the cities which are expected to be majorly hit once Irma does the landfall.
"We are getting ready to respond to Hurricane Irma," Trump said.
"The winds coming now -- Irma, they're saying, is the largest one in recorded history in the Atlantic Ocean -- coming out of the Atlantic, which gets big ones," he said.
Puerto Rico has already reported significant damage. National Hurricane Center said that Hurricane Irma is now one of the most powerful hurricanes ever recorded in the Atlantic Ocean.
"This massive category-5 storm has the potential to cause catastrophic destruction throughout the state and we are deeply concerned that the Federal Emergency Management Agency (FEMA) will not have the resources it needs to respond if Congress does not act soon," said Florida Senators Marco Rubio and Bill Nelson.
Miami Mayor Carlos Gimenez on Wednesday issued evacuation orders for 100,000 residents. The hurricane is expected to impact millions of Floridians, including thousands of Indian-Americans who live in the state.
Florida has a vibrant Indian-American population.
The State Department warned US citizens to carefully reconsider travel to Cuba due to Hurricane Irma which is projected to impact Cuba.
This storm may bring significant rainfall and wind that may result in life-threatening flooding, flash flooding, mudslides, and storm surge, it said.
Christine Lagarde, Managing Director of the International Monetary Fund expressed her deep concern and sympathy for the countries affected by Hurricane Irma -- one of the strongest Atlantic storms ever.
"Several islands in the region have already suffered terrible damage from the storm, and others are still in its path. We are very saddened by the reports of lives lost and widespread destruction," she said.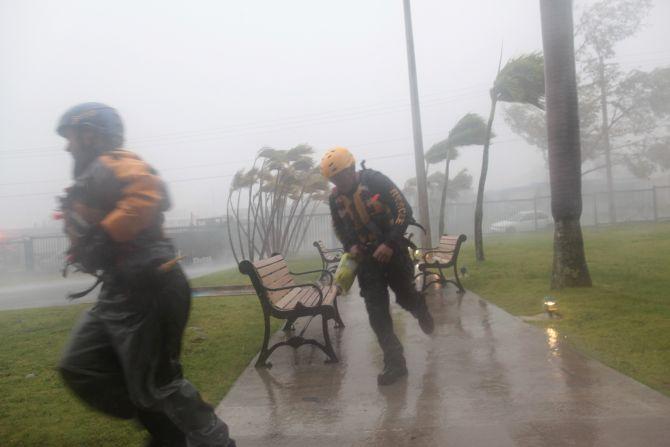 IMAGE: Members of the civil defence run as Hurricane Irma howls past Puerto Rico after thrashing several smaller Caribbean islands.
This hurricane has the potential to be a major event for the East Coast said Evan Myers, AccuWeather expert senior meteorologist and chief operating officer.
"It also has the potential to significantly strain FEMA and other governmental resources occurring so quickly on the heels of Harvey," he said.
"Because Irma is likely to move up along the east coast of Florida, Georgia and South Carolina, people from the Florida Keys all the way to Cape Hatteras, North Carolina, should prepare to be ready to evacuate coastal areas, starting with South Florida now," Myers added.
The storm should be taken very seriously and preparations should be hurried to completion, he said.
Meanwhile, Hurricane Irma hammered Puerto Rico on Wednesday night and caused widespread destruction and number of casualties in northern Caribbean islands specially Barbuda, which has been 'literally reduced to a rubble'.
Three deaths have been reported and there are fears of more fatalities.
The most powerful hurricane ever recorded over Atlantic Ocean battered Barbuda, St Martin and Puerto Rico as it moved west with Category 5 packing devastating winds and rain and left 60 per cent of the islands' population homeless.
The communication has been disrupted totally after winds snapped a cell tower in two on the island and the Barbuda residents are living under harsh conditions with no water supply and electricity.
After slamming St Martin, Anguilla and St Kitts and Nevis, the storm was expected to move near the British Virgin Islands and northern US Virgin Islands.
The storm's centre was then expected to pass near or just north of Puerto Rico on Wednesday afternoon and evening.
"Barbuda right now is literally a rubble," CNN quoted Prime Minister Gaston Browne of Antigua and Barbuda as saying after Hurricane Irma left a trail of 'absolute devastation' across the tiny Caribbean island.
The Caribbean is a region that consists of the Caribbean Sea, its islands. The region is south-east of the Gulf of Mexico and the North American mainland, east of Central America, and north of South America.
Irma damaged Barbuda's lone airport, which will now force officials to ferry supplies by boat and helicopter from Antigua. Browne estimated rebuilding would cost about $100 million.
"The entire housing stock was damaged," Browne said, after visiting the island of 1,800.
"It is just a total devastation."
Irma killed at least three people, destroyed government buildings, tore roofs from houses and left islands without power or communications. St. Martin/St. Maarten and St. Barts also felt the fury of the Category 5 storm, one of the strongest ever recorded in the Atlantic, according to updates from the region.
Weather Forecasters warn that Irma's likely path will be near the Turks and Caicos Islands on Thursday.
The storm is expected to pass just north of the Dominican Republic and Haiti, bringing hurricane force winds to northern sections of the island, likely causing mudslides and flooding.
In the Bahamas, emergency evacuations have been ordered for six southern islands -- Mayaguana, Inagua, Crooked Island, Acklins, Long Cay and Ragged Island.
With ANI inputs