RJD leaders attacked PM Modi and CM Nitish Kumar, alleging that it was a malicious exercise.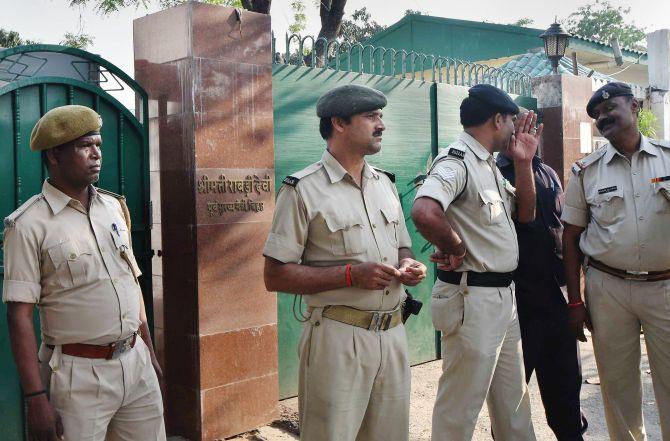 The Central Bureau of Investigation on Tuesday questioned former Bihar chief minister Rabri Devi and her son Tejashwi Yadav at her residence in Patna in connection with the IRCTC hotel scam which allegedly took place while Rashtriya Janata Dal chief Lalu Prasad Yadav was the railway minister.
While CBI officials were not available for comments, RJD leaders said a CBI team went to Rabri Devi's residence in Patna, where Tejashwi, who stays across the road, was also present.
They said the team questioned Rabri Devi and her son, a former deputy chief minister, for close to four hours.
Cases lodged against Tejashwi had led to Chief Minister Nitish Kumar's exit from the Grand Alliance comprising the Janata Dal-United, the RJD and the Congress last year after which he formed a new government with the Bharatiya Janata Party.
RJD leaders attacked Prime Minister Narendra Modi and Chief Minister Nitish Kumar, alleging that it was a malicious exercise and wondered if it was a coincidence that their leaders had been questioned by the CBI when the prime minister was visiting the state.
"Let Narendra Modi and Nitish Kumar remember that the more they will try to repress us, the stronger will we emerge," RJD vice-president Shivanand Tiwary said.
The entire exercise smacks of malice as Lalu is in jail and is keeping poor health because of which he has been admitted to the AIIMS at New Delhi, RJD MLA Shakti Singh Yadav told reporters.
Prasad's elder son Tej Pratap Yadav's marriage is also on the cards, he said, adding, "It is not a mere coincidence that the development has taken place on a day when Narendra Modi is on a tour of Bihar."
Another party MLA Ejya Yadav said Tejashwi has challenged the CBI and the Enforcement Directorate to come up with a chargesheet if they have any proof against him or his family in the case.
The case pertains to allegations that Lalu, as railway minister, handed over the maintenance of two hotels run by the Indian Railway Catering and Tourism Corporation (IRCTC), a subsidiary of the Indian Railways, in Ranchi and Puri to Sujata Hotel, a company owned by Vinay and Vijay Kochhar, in return for a prime plot of three acres in Patna through a benami company, Delight Marketing Company.
A first information report lodged in this connection alleged that the RJD leader had abused his official position for extending undue favours to the Kochhars.
After the tender was awarded to Sujata Hotel, the ownership of Delight Marketing Company changed hands from Sarla Gupta to Rabri Devi and Tejashwi Yadav between 2010 and 2014. By this time, Lalu had resigned as railway minister.
The CBI registered the case against Lalu, his wife Rabri Devi, son Tejashwi, and Sarla Gupta, wife of former Union minister Prem Chand Gupta.
Others named as accused in the FIR include Vijay and Vinay Kochhar, both directors of Sujata Hotels and owner of Chanakya Hotel, Delight Marketing Company, now known as Lara Projects, and then IRCTC managing director P K Goel.