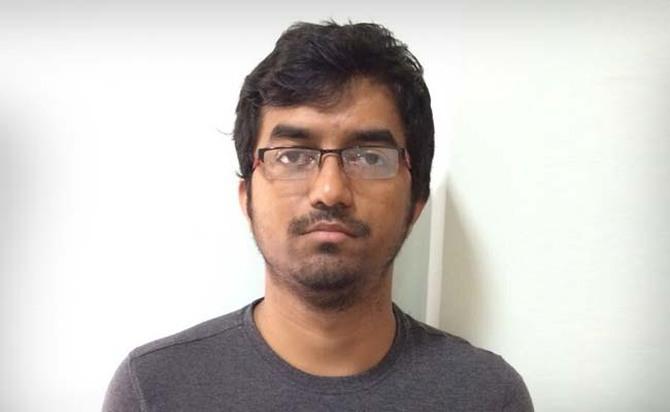 In a major breakthrough, the alleged handler of the most influential pro-Islamic State Twitter account was arrested from an apartment in Bengaluru in the early hours of Saturday.
Bengaluru-based engineer Mehdi Masroor Biswas, who was named by UK-based Channel 4 as the man behind terror group Islamic State's most influential Twitter handle, was today arrested from his flat here and slapped with charges of "waging war" and unlawful activities.
24-year-old Biswas has confessed that he was handling the pro-jihad tweeter @ShamiWitness and became a source of incitement and information for new ISIS recruits, Karnataka DGP L Pachau said.
Biswas, an engineer working as "manufacturing executive" with ITC Foods for an annual package of Rs 5.3 lakh, was arrested from his rented one-room apartment, Police Commissioner M N Reddi said, adding, he did not resist while being taken into custody.
When contacted, Nazeeb Arif, Vice President Corporate Communications of ITC LTD, admitted that Biswas was an employee. "We informed Bengaluru police about his employment status as soon as we found media reports on this issue, and have extended cooperation with the investigation process," Arif said.
Biswas, hailing from West Bengal, had admitted to operating @ShamiWitness twitter account for the last many years and had more than 17,000 followers on Twitter. He used to ferociously tweet by aggregating information and closely watching developments of the region, Pachau said.
Reddi said Biswas had been arrested under Sec 125 of IPC (whoever wages war against the Government of any Asiatic power in alliance or at peace with the Government of India or attempts to wage such war, or abets the waging of such war), Sections 18 and 39 of Unlawful Activities (Prevention) Act and Section 66 of the Information Technology act.
Asked if Biswas had any link with ISIS, Reddi said it was being investigated "but by and large, our interrogation of the accused reveals that he was majorly in the virtual world." Two mobile phones and a laptop had been seized from him.
Bengaluru Police had launched a manhunt for Biswas after Britain's Channel 4 News had aired the report regarding the country's IT capital's link with the Twitter account that is followed by foreign jihadis.
Channel 4 News had said its investigation had revealed that the man operating the account is called Mehdi and he is an executive in Bangalore working for an Indian conglomerate.
"After the interrogation for the past few hours, as of now, we don't see his involvement in any kind of terrorist activities within the country," Reddi said.
Asked if Biswas had facilitated any recruitment or forced people to join ISIS, Reddi said, "Our information is clear. As of now, he has never recruited anybody nor did he facilitate any such activity within India. He has never traveled outside India. He has been in the virtual world."
"He is supporter of terrorists, supporter of ISIS and one who has incited about it," Reddi said, adding, he had done it only through twitter on a global level with a focus on the Levantine region.
Biswas was interested in the Levantine region, also known as Eastern Mediterranean, consisting of Cyprus,Israel, Jordan, Lebanon, Palestine, Syria and part of Southern Turkey from 2003 onwards, Pachau said.
He used to work in the office during daytime and became active on the Internet at nights, he said, adding, he had bought 60 GB Internet connection on monthly basis to read all breaking news on websites relating to ISIS/ISL.
Pachau said through his social media propaganda, Biswas abetted ISIL in its agenda to wage war against Asiatic powers.
Reddi said there was no "immediate information" about any previous criminal record of Biswas who was recruited by the company as a college placement and confirmed in his position in March this year.
He said reports about Bangalore police having received intelligence inputs about his activities were wrong. "There was no intelligence input prior to the incident yesterday..."
Multiple leads from multiple agencies helped the special team to track his location and with excellent co-ordination between the city police, the internal security division of the state police and the central agencies," Reddi said.
Asked if police need Twitters co-operation, he said "definitely, we have already asked for it."
Biswas was careful in hiding his true identity and was confident that it would never get revealed, the state police chief said. "His identity was exposed by Channel 4 and inputs were passed on to the Indian agencies."
His parents live in West Bengal and he has two elder sisters, Pachau said. His father is a retired employee of the West Bengal State Electricity Board.
The British news broadcaster had not revealed Biswas's full name as he said his life would be in danger and avoided questions about his role in the Islamic State's propaganda war. The account was shut down after the report surfaced.
Channel 4 News had said its investigation had, however, revealed that the man operating the account is called Mehdi.
"His tweets, written under the name Shami Witness, were seen two million times each month, making him perhaps the most influential Islamic State Twitter account, with over 17,700 followers," it said.
In a two minute 12 second interview to Channel 4 "Mehdi" had said, "I haven't done anything wrong. I haven't harmed anybody. I haven't broken any law...I haven't raised any war or any violence against the public of India. I haven't waged war against any allies of India."
The report had quoted the Twitter account operator as saying that he had not joined IS jihadist ranks in Iraq and Syria because his family was financially dependent on him.
The Shami Witness tweets contained jihadist propaganda as well as information for would-be recruits and messages praising fighters who have been killed as martyrs.
The IS militant group has made extensive use of social media for propaganda and recruitment, as well as for disseminating gory execution videos.
Image: Mehdi Masroor Biswas's photo released by Bengaluru Police