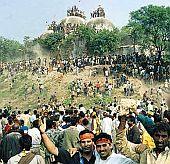 The statement of senior cop Anju Gupta before a special court of the Central Bureau of Investigation in Rae Bareli on Friday could give sleepless nights to veteran BJP leader  Lal Krishna Advani for his alleged role in the demolition of the 16th century Babri Mosque in Ayodhya 18 years ago.
In her two-and-a-half hour long statement before the court, Gupta, who is currently dong a stint with the Research and Analysis Wing (RAW) under the Cabinet Secretariat, sought to point out that even though Advani may not have had any direct involvement in the demolition, he fuelled the fire and paved way for the demolition task force.
Apart from disclosing how Advani looked euphoric while declaring that the Ram temple would be built at the disputed site, Gupta also clearly spelt out that it were Advani and Uma Bharti who urged kar sevaks (religious volunteers) to descend from the domes of the mosque atop which many could be seen with rods, spades, hammers and even ropes.
"Mr Advani was very keen to go right up to the disputed structure to persuade 'kar sevaks standing atop the mosque to come down; but I advised him not to do so as it could be very unsafe for him," she told the court.
"However, he told Uma Bharti to proceed; and on return from the disputed structure, she told Mr Advani that she had advised the kar sevaks to get down as it would make more sense for them to perform the kar seva from below," disclosed Gupta in a statement that was loaded with a clear indication that the two leaders were aware of the larger plan to bring down the structure from its very base -- which was how the task was actually carried out.
Without mincing words, she narrated all the excitement that she had witnessed among the top BJP and VHP leaders present around the Babri Masjid just before it was pulled down by violent Hindu kar sevaks in the afternoon of December 6, 1992.
Then a deputy inspector general of police, Gupta was giving
her testimony on what she saw in Ayodhya on that fateful day. She was then posted as assistant superintendent of police (ASP) in Ayodhya, where she was also entrusted by the then Kalyan Singh government with Advani's personal security.
The 16th century mosque, built by Mughal emperor Babur, was razed by violent mobs of kar sevaks , who passionately believed that the mosque was erected after pulling down an ancient temple that marked the birthplace of Ram, the most revered Hindu God.
Gupta told the court, "Advani gave quite a provocative speech for which he was applauded by his other party colleagues and the crowds."
She further claimed that 'there were at least 100 persons present on the dais along with Advani, including top BJP leaders Murli Manohar Joshi and Uma Bharti, besides Vishwa Hindu Parishad (VHP bigwigs) like Ashok Singhal,  SC Dikshit, Sadhvi Rithambara and then Bajrang Dal chief Vinay Katiyar among others."
Gupta told the court, "I remember their faces so distinctly that I would be able to still recognise at least 80 of them."
According to her, "There was so much excitement among the crowds that they distributed sweets after the mosque was pulled down."
Eight witnesses have deposed before the court in the case so far, while 32 were yet to record their statements. She had made a detailed statement on the movement and activities of various Sangh leaders, including Advani, during the incident of December 6, 1992. It formed a key part of the criminal case the CBI filed against Advani, Joshi, Bharti, Katiyar, Ashok Singhal, Giriraj Kishore, Vishnu Hari Dalmiya and Rithambhara in 1993.