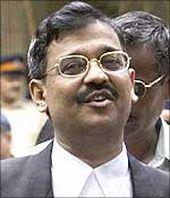 Special public prosecutor Ujwal Nikam remains calm before the special court trying 26/11 accused Ajmal Kasab, Fahim Ansari and Sabauddin Ahmed will deliver his judgment.
Also Read: Rediff Interview with Ujwal Nikam
Though the journey in the last one year had been physically sapping given the fact that he had examined 296 witnesses, Nikam told rediff.com that he was not mentally sapped because of the onerous nature of his job.
And what keeps him de-stressed is a simple philosophy in life that he has drawn from the Bhagvad Gita.
"I am ready to face any situation. I have never bothered about the result of any case so long as I have satisfied myself about my sincerity and integrity in handling the cases," he said.
"Of course the last one year had been very tiring as I am a one-man army and this I am strong to handle any situation."
He also said that he has a counter strategy is in place in case tomorrow's verdict does not go in accordance with the prosecution's wishes.
Nikam strongly feels that it is the common man that is the reason of his strength that encourages him to rise to any occasion.
"I know that the common man has a ray of hope in Indian judicial system and it is the same common man that boosts my morale to continue doing what I think is just and right and as per India's law," he said.
Asked if he has rubbed a few Maharashtra politicians the wrong way because of his larger-than-life image created by the media, Nikam replied n a lighter vein, "I don't think that any politician should envy me for this. Their publicity is different and my publicity is different."
In his defence, he said that most of the cases that he had handled as a public prosecutor were sensational in nature, leading to his publicity.