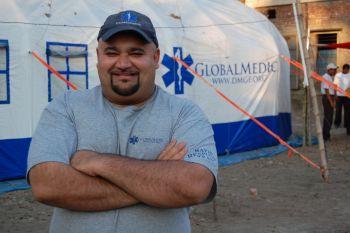 Rahul Singh shares his experience at Time's 100 Most Influential People gala with Ajit Jain
Rahul Singh, who is among Time magazine's 100 Most Influential People for 2010, says he's the same person he was after receiving the recognition at the Lincoln Center in New York, May 5.
"The day before we received the award we did our work as paramedics and a day after the award we are doing the same work," he told India Abroad. "I am the same person as I was the day before."
The Toronto-based paramedic was honoured because of his work with GlobalMedic, a charitable organization he established 12 years ago for disaster relief. He was ranked 22nd in the Heroes category, along with three other Indians -- humanitarian worker Dr Perumalsamy Namperumalsam (6th), cricketer Sachin Tendulkar (13th) and entrepreneur Kiran Mazumdar-Shaw (16th).
At the red carpet affair, Singh met 53 of the 100 people on the list, including former United States President Bill Clinton, singers Elton John and Prince, British business tycoon Richard Branson and former US vice presidential candidate Sarah Palin.
Singh said Clinton talked about Haiti, his work there, but didn't refer "to the work GlobalMedic has done and is still doing in Haiti, but Richard Stengel, managing editor, Time, did."
Clinton also talked about people working together as a society and the recent terror attempts at the Times Square in New York. 
What Singh enjoyed more was meeting Chief Master Sergeant Tony Travis and assistant fire chief for operations for Miami-Dade Fire Rescue Karls Paul-Noel, who rank 20th and 21st, respectively, in the Heroes category of Time's 100 Most Influential People list. While Travis was the first person to land in Haiti and helped other US planes land in a city in chaos after the January 12 earthquake, Paul-Noel was working on the ground at the same time with the Fire-Rescue's urban search and rescue team that helped pull 11 survivors from the rubble.
"But the New York gala was far away from all that… it was glamour, celebrities, etc," Singh said. There were too many toasts -- by Palin, Ben Stiller, Elizabeth Warren and whole lot of others -- proposed during dinner, he added. 
The one thing he would take away from the Time event, Singh said, was "the value of partnership and initiative of different folks and partnering with them."
"At the cocktail reception, my wife Chantel and I talked to lots of bigwigs from the corporate world, a number of congressmen and senators," he added. "We shared with them the work that GlobalMedic was doing, especially our work in Haiti, providing clean drinking water and medicines, installing hydro generators, etc."

The best thing to come out of the recognition, Singh said, was a surge in speaking engagements that allow him to sensitize people internationally about GlobalMedic's work. He has been invited to Saudi Arabia to speak at the Global Competitive Forum and then to Newfoundland. "These will help us expand the work of the GlobalMedic and get more folks involved," he said.