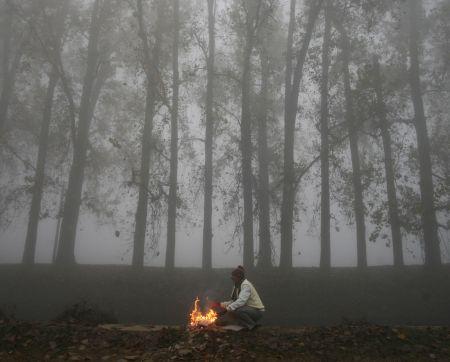 North India was in the grip of intense cold with 40 days of harshest winter period 'Chillai-Kalan' beginning in Jammu and Kashmir on Saturday and icy winds sweeping across the plains.
Dense fog engulfed the plains of Northern region, affecting air and rail traffic while the higher reaches of Kashmir Valley and Himchal Pradesh received snow fall.
For the national capital Delhi, it was a cloudy, chilly and hazy Saturday as the winds blowing across the city brought the maximum temperature down by six degrees from normal.
The city recorded the day temperature at 15.9 degrees Celsius, while minimum temperature was recorded four degrees above the normal at 12.5 degrees Celsius.
The thin layer of fog enveloped the IGI airport in Delhi, but there was no disruptions in flight movements.
In Jammu and Kashmir, people woke up to chilly morning and overcast conditions as the 40-day harshest winter period began today.
The cold wave tightened its grip on the Valley, where the mercury dropped considerably, while the upper reaches of Gulmarg and Pahalgam resorts received snowfall.
Gulmarg received around five inches of snow, while Pahalgam recorded 2 cms.
There were also reports of snowfall from other areas of the valley including Shopian, Jawahar Tunnel and Sonamarg.
There was a light rainfall in Srinagar, which recorded a minimum temperature of minus 3.9 degrees Celsius.
The ski-resort of Gulmarg recorded a low of minus 7.0 degrees Celsius while the mercury in Pahalgam hill resort settled at a low of minus 5.6 degrees Celsius.
Though 'Chillai-Kalan' would end on January 31, the winter continues after that. The 40-day harshest period would be followed by a 20-day long "Chillai Khurd" (small cold) and a 10-day long "Chillai Bachha" (baby cold).
In the plains of Punjab and Haryana, fog continued to disrupt normal life and affected air and train services even as light rain or thundershowers are expected in the region in the next 24 hours.
Though minimum temperature stayed above normal in Punjab and Haryana by few notches, cold conditions prevailed in the states.
In Punjab, Amritsar recorded a low of 9.5 degrees Celsius, up by five notches above normal. Ludhiana and Patiala had a low of 9.4 degrees Celsius and 10.1 degrees Celsius, respectively. In Haryana, Ambala and Hisar recorded their lows at 9.5 degrees Celsius and 11.2 degrees Celsius, respectively.
Union Territory Chandigarh recorded minimum temperature at 7.4 degrees Celsius, Met officials said.
In the hill state of Himachal, where a large number of tourists have started converging for Christmas, biting cold wave swept most parts of the state.
Cold wave intensified today as high altitude areas and other higher reaches experienced fresh snowfall and strong velocity icy winds lashed the region.
The sky remained heavily overcast causing a fall in day temperature while minimum temperature slipped by a few notches across the state.
The pale sun failed to warm up the region and fierce winds forced people to stay indoors in high altitude areas.
Keylong and Kalpa in tribal districts of Lahaul and Spiti and Kalpa recorded minimum temperatures at minus 8.2 and minus 5.0 degree, four degree below normal, Manali and Bhuntar recorded a low of minus 2.4 degree and 0.5 degree, followed by Solan and Sundernagar 1.0 degree, Shimla and Hamirpur 1.4 degree C.
It was a foggy morning at many places in the desert state of Rajasthan where temperature dipped further.
Mount Abu was the coldest place in the state with a low of minus one degrees Celsius, followed by Bikaner at 3 degrees Celsius.
Barmer, Kota, Jaisalmer and Jodhpur recorded a low of 7, 7.2, 7.4 and 8.4 degrees Celsius respectively, while the night temperature at other places, including the state capital Jaipur remained above 10 degrees Celsius.
Image: A man warms by a fire along a canal during a cold and foggy winter morning on the outskirts of Jammu
Photograph: Mukesh Gupta/Reuters