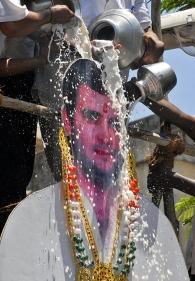 In remarks laced with sarcasm, Samajwadi Party leader Azam Khan has said that Congress Vice President Rahul Gandhi is an "innocent child" who reads from the dais whatever is given to him in writing.
"Rahul is an innocent child...though Ramdev too calls him so, but I will call him innocent as he reads whatever is given to him in writing," the Uttar Pradesh cabinet minister told reporters on Friday night.
He claimed that Rahul had termed saw mills as plywood factories while addressing a rally in the state.
On Rahul's allegation that the SP government is triggering riots, Khan hit back saying, "It is the Congress which laid the foundation of communal clashes."
"The Congress ruled the country for more than 50 years after Independence and it triggered numerous riots," Khan alleged.
Azam claimed that he was satisfied with the work of Chief Minister Akhilesh Yadav.
Azam said the day he felt that Akhilesh was not living up to expectations, he would be the first person to withdraw from the government.
When asked about his recent meeting with controversial Independent Member of Legislative Assembly Raghuraj Pratap Singh alias Raja Bhaiya, who was on Friday re-inducted into the Uttar Pradesh Cabinet, Khan said he met the MLA as he "honours human relationships very much".
Azam pointed out that the meeting turned out to be a boon for Raja Bhaiya as he got a Cabinet rank the very next day.
Raja Bhaiya was on Friday re-inducted into the UP cabinet, seven months after he had to step down in the wake of the killing of Deputy Superintendent of Police Zia-ul-Haq in Pratapgarh.
On the objections raised by the DSP's wife on the re-induction of Raja Bhaiya, Azam said that after the killing, she had submitted a 21-point charter of demands and all of them were accepted.
He said it was on her demand that a Central Bureau of Investigation inquiry was conducted but Raja Bhaiya was given a clean chit by the agency.
He said that the decision to re-induct Raja Bhaiya was taken by the chief minister.