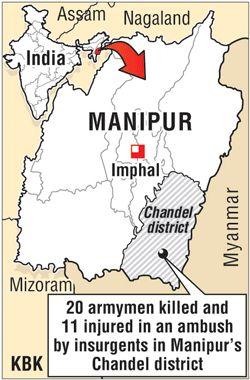 An all-out offensive was launched to trace and eliminate the militants involved in massacre of 20 army men in Manipur on Thursday.
The Indo-Myanmar border in Manipur has been closed to stop the militants fleeing to the neighbouring country.
At a high-level meeting, chaired by Home Minister Rajnath Singh and attended by Defence Minister Manohar Parrikar, Army Chief Dalbir Singh Suhag, Nation Security Advisor Ajit Doval besides others, took stock of the situation arising out of the ambush on the army personnel in the northeastern state.
The home minister ordered that no militant involved in the attack should be allowed to go scot free and strongest possible action should be taken against all those involved in the ambush, official sources said.
The Centre took the incident very seriously and directed that all installations of the security forces in Manipur and Nagaland be put on high alert to foil any attempt by the militants to strike again.
The sources said the top security brass of the country was anguished over the killing of such a large number of army men and decided that well-coordinated operations and strongest possible action are the only way out check the militant groups which continue to attack security forces and involve in subversive activities.
Using landmines, rocket-propelled grenades and automatic weapons, the insurgents ambushed the military convoy in Chandel district in the worst such attack in nearly two decades.
Eleven army men were also injured in the ambush in which army and civilian authorities suspect the involvement of Manipur rebel outfit Peoples Liberation Army and Kanglei Yawol Kanna Lup, a Meitei rebel organisation.

Graphic: KBK