As the final process for India's accession as a full member of the Shanghai Cooperation Organisation began, Prime Minister Narendra Modi on Friday said the partnership will help protect the region from threats of radicalisation, violence and terror and drive its economic growth.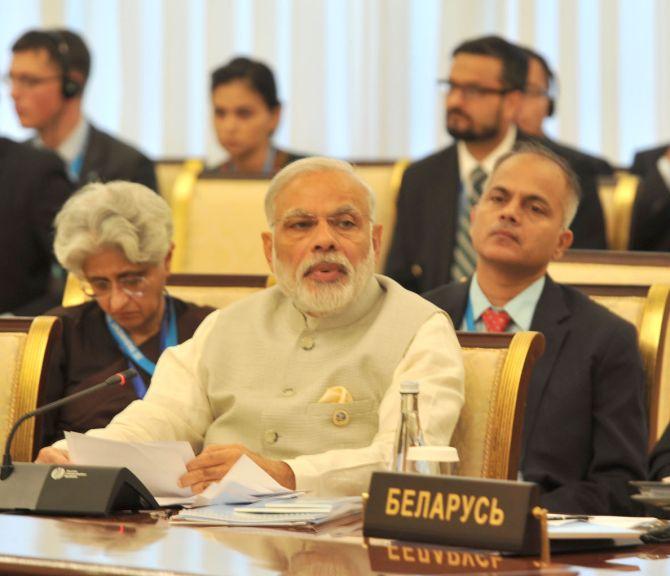 IMAGE: Prime Minister Narendra Modi delivering his address at the Shanghai Cooperation Organisation summit, in Tashkent, Uzbekistan. Photograph: PIB photos
In his address at the SCO summit, Modi said India would significantly benefit from the grouping's strengths in energy and natural resources and in turn India's strong economy and vast market could drive economic growth in the SCO region.
"India's membership of SCO would contribute to region's prosperity. It would also strengthen its security. Our partnership will protect our societies from the threats of radical ideologies of hate, violence and terror. India will unite with SCO countries to work towards this goal. And, we will adopt zero tolerance and a comprehensive approach in fighting terrorism at all levels," said Modi.
At the summit, India signed the SCO's memorandum of obligations, kick-starting the process of its accession into the group as a full member.
India will have to sign around 30 other documents in the course of the year to complete the process for membership.
Pakistan is also being inducted into SCO as a full member.
"We are indeed grateful to the SCO member states and its leaders for their overwhelming support for India's membership of the SCO. I also welcome Pakistan as the new member of the SCO," said the prime minister.
Seeking deeper economic engagement, Modi said India's capacities in trade, investments, information and communication technology, space, agriculture, health care, small and medium scale industry can bring wide spread economic benefit to the SCO countries -- Russia, China, Kyrgyzstan, Kazakhstan, Tajikistan and Uzbekistan.
"We would represent 40 per cent of humanity and over a billion youth. To this group, India brings principles that are in tune with the philosophies of the SCO. India has always enjoyed good relations with the Eurasian land mass," he said.
The prime minister said India will be a productive partner in the SCO in promoting trade, energy cooperation and developing transport links in the region besides people-to-people contacts.
"Our decision to join the international North South Transport Corridor, the Chabahar Agreement, and Ashgabat Agreement reflects this desire and intent," Modi said.
Talking about Afghanistan, the prime minister said, a stable, independent and peaceful Afghanistan is not just a "sincere desire" of each Afghan but it is also necessary for greater security and stability in the SCO region.
He exuded confidence that India's engagement with all SCO members will help in build a region which is an engine of economic growth for the world and is more stable and secure internally and strongly connected with other geographies.
The prime minister had said at the Ufa Summit of the SCO last year, "the SCO leaders had accepted India as its full member. It was a landmark in India's engagement with SCO," adding "as a logical extension India's age old ties with the region, one-sixth of humanity will join the family of SCO."
Observing that India has historic linkages with SCO countries, he said the connection was not just geographic as "our societies have been enriched by links of culture, cuisine and commerce. They form the bed rock of our modern day relationships with Russia, China and the countries of Central Asia."
He said with India as full member of the SCO, the group's boundaries would stretch from the Pacific to Europe and from the Arctic to the Indian Ocean.
"We can partner to develop human resources and institutional capacities in the region. Since our priorities match, our development experiences would be relevant to your national needs.
"The interdependent world of 21st century is full of economic opportunities. It also faces geo-political complexities and security challenges. And, connectivity among the countries of the region is crucial to our economic prosperity.
"And, not just physical connectivity. What we need is seamless flow of goods, services, capital and people among ourselves. But, that alone is not enough. Our region also needs to nurture strong rail, road and air links with the rest of the world," he said.
He said, next year, India would look forward to attending SCO meeting in Astana, as equal partners.