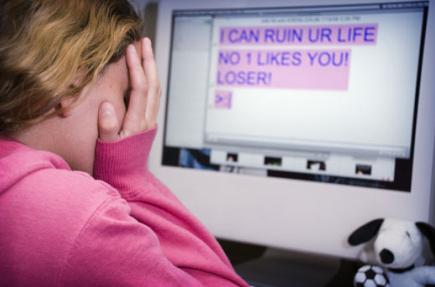 In a study conducted in four countries, number of Indian teens who bullied someone or were bullied by someone online was the highest.
Recently, a teenager attempted suicide by swallowing all the pills in his parents' cabinet, as he was 'mocked and jeered at' by his friends and classmates who called him a gay after he posted pictures of a sleepover with friends.
In another case, a 13-year-old Delhi girl's mother found her posting revealing pictures of her wearing inappropriate lingerie and clothes on social media to attract more attention after she failed to get a good number of 'likes' on her usual photos. The more 'likes' she got, the more she was compelled to post more revealing pictures. As soon as they came to know about it, here parents consulted a counsellor and realised that the conscious withholding of 'likes' by her peers was an indirect form of bullying.
Psychiatrist and cousellors say that the cases of teenagers being bullied online by peers of strangers are increasing day by day.
"In the last five years, I've seen a marked increase in the number of teens and tweens, or preteens, who seek counselling because they are being bullied online," said psychiatrist Sunil Mittal, director, Delhi Psychiatric Centre. "Every week, I see at least two such cases."
According to a recent study conducted by Intel Security, 81 per cent of Indian respondents between eight and 16 years of age told that they are active on the social media networks. Of the four countries surveyed -- India, US, Australia, and Singapore -- under the study named 'Teens, Tweens and Technology Study 2015', 22 per cent of Indian teens and preteens, the highest among the four countries, said that they have been bullied online. Moreover, 52 per cent of the Indian children confessed that they had bullied people on the social media, again the highest among the group of four countries.
A whopping 65 per cent of respondents report witnessing cruel behaviour online.
"Cyberbullying is a fast-growing trend that Indian parents and educators can't afford to ignore," says Melanie Duca, marketing director, consumer-Asia Pacific at Intel Security.
With the devices having Internet facility reaching more and more Indian households, often easily accessible to children, tweens and teens are spending more time online than ever before. And much of their aggression, which was once channelised offline, is now converting into online bullying.
According to the Intel Security blog, 'Cybermum India', cyberbullying can take many different forms -- tagging inappropriate pictures, spreading rumours, insulting comments and filming and posting videos online, for instance.
The fact which makes online bullying way more dangerous and formidable than offline bullying is that malicious tags, cruel comments and unwanted pictures, once uploaded, can never be completely erased from the Web and run the danger of being resurrected any time. The more the victim protests, the longer the online bullying tends to last.
"The apparent anonymity of the Internet turns even the meek into bullies," says Mittal. "By its very nature, Internet has created opportunities for deviant behaviour."
With an increase in the number of social networking sites, tweens and teens are basing much of their self-esteem on their online personas.
As many as 89 per cent of the tweens and teens polled in the Intel Security survey felt that 'likes' and 'favourites' on their profiles were very important for their self image. And, 78 per cent felt that Facebook was the platform most likely to be used for open criticism and bullying.
The question how to end cyberbullying is worrying parents and educators alike. "First off, we have to teach our children about online safety just as we teach them about protecting themselves offline," says Mittal. Further, there is a growing need for software that can screen potentially harmful messages.
"It is becoming increasingly difficult for parents to keep track of their teens' online activities because of the rising number of connected devices," says Duca. "So, when we talk of cyberbullying and cybercrime in general, we need cross-device protection.'
However, indicating that there's scope for some hope, Duca also points out that in the 2014 Intel Security survey, 57 per cent of children said they would not know what to do if they were harassed or bullied online. While in 2015, 71 per cent victims reported taking some action against bullying. "Whether through blocking unwanted messages, reporting bullying behaviour or complaining against bullies, it is clear that more and more Indian teens are refusing to be silent victims any more, and that's really good news," she said.
'ReThink' comes to the rescue of victims
In 2013, Trisha Prabhu, an Indian teen living in Chicago, read about an 11-year old Florida girl who committed suicide after having been repeatedly cyberbullied. An outraged Trisha decided to do something about it. The result was ReThink, her award-winning anti-cyberbullying software that approaches the issue from its source -- the mindset of the bully.
ReThink is based on the premise that the adolescent brain is like a car without brakes. In fit of rage and due to peer-pressure, teens often say or do things they later regret. ReThink uses context-sensitive word screening, sending out prompts that enable adolescents to consider the possible consequences of posting a hurtful message before actually posting it. The filter gives them a chance to reconsider this decision.
"This stops the bullying even before it takes place," says Trisha, its 15-year-old inventor.
She presented and tested her hypothesis for the Google Science Fair 2014 (where she was among the top 15 finalists), after conducting 1,500 trials in her school. Her study concluded that 93.4 per cent of her subjects decided to change their message once they had time to rethink it.
Image used for representational purposes only.