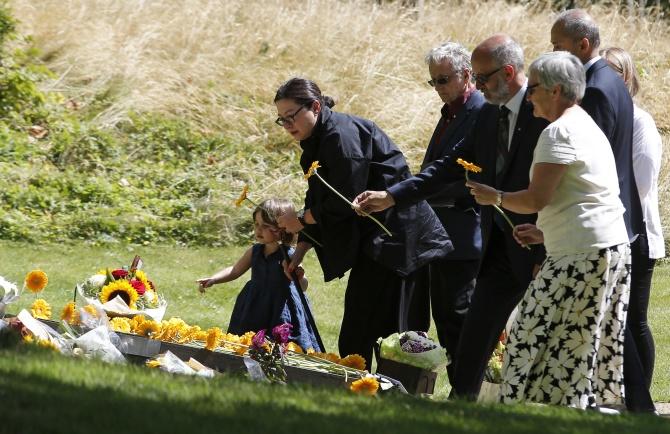 Gill Hicks (second from right), a survivor of the July 7, 2005 London bombings, lays a flower as she attends a memorial event with her daughter Amelie to victims of the July 7, 2005 London bombings, at the memorial in Hyde Park, central London, Britain. Photograph: Peter Nicholls/Reuters
Two Indian-origin women were among the 52 victims of the July 7 bombings honoured at a memorial ceremony to mark the 10th anniversary of the London bombings in London on Tuesday.
Delhi-born computer analyst Neetu Jain had just started a new job with an information technology firm called TXT4 in Hoxton Square, eastLondon, and was about to marry her partner when she died in the Tavistock Square bus explosion.
The 37-year-old had moved to the United Kingdom with her family in 1968 and lived in Hendon, north London. Indian-origin Mala Trivedi, a radiographer working at GreatOrmondStreetHospital here, was born in Nairobi, Kenya, before moving to London to study.
The 51-year-old was killed in the King's Cross tube explosion and is survived by her son Kunaal. Their names were among those read out at a special ceremony held at the July 7 Memorial in Hyde Park today, attended by Prince William.
The memorial is made up of 52 stainless steel pillars, designed to symbolise the random nature of the loss of life. William, who had expressed his wish to be part of this more informal ceremony today, laid flowers alongside hundreds of family members and survivors gathered at the park in the heart of London.
Speaking to the audience, survivor Sudhesh Dahad said he is embarrassed that the tragic events of 10 years ago still have an impact on him today.
"Sadly the worst event in history is only the worst until the next one," he said at the event, which was marked by musical tributes by Rock Choir.
Earlier, the official memorial ceremony was held at St Paul's Cathedral attended by British Prime Minister David Cameron as well as former Prime Minister Tony Blair, who was in government when the attacks took place across the city's transport network.
Cameron said it was a day to "recall the incredible resolve and resolution of Londoners and the United Kingdom, a day when we remember the threat that we still face, but, above all it's a day when we think of the grace and the dignity of the victims' families for all they have been through and we honour the memory of those victims and all those that were lost 10 years ago".
It was during rush hour on 7 July 2005 that three bombs were detonated in quick succession from 8:50 am on tube trains. A fourth was detonated on the top deck of a No 30 bus at Tavistock Square almost an hour later.
Many who died there had already been evacuated from tube stations, some even calling their families to let them know they were safe.
The four suicide bombers, Mohammad Sidique Khan, 30, Shehzad Tanweer, 22, Hasib Hussain, 18, and Jermaine Lindsay, 19, had met at Luton and travelled to King's Cross station where, at 8 30am, they were seen hugging before splitting up.