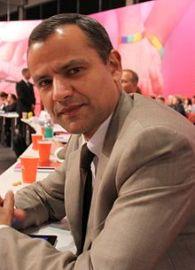 Indian-origin former German lawmaker has challenged the child pornography allegations levelled against him by state prosecutors, accusing them of lying about the probe against him.
Sebastian Edathy, 44, who is facing probe for allegedly possessing child pornography, has denied any wrongdoing.
In a formal complaint filed with justice minister of Lower Saxony on Monday, Edathy's lawyer Christian Noll claimed that the chief prosecutor Joerg Froehlich was not telling the truth when he told a news conference last Friday that the videos and photos of naked boys acquired by the ex-MP from a Canadian firm were "in the border areas" of child pornography.
"Froehlich did not mention that specialists of the Federal Criminal Office (BKA) in Wiesbaden, the Federal Prosecutor's Office in Frankfurt and the Centre for Combating Internet and Computer Criminality in Giessen have evaluated the videos and photos some months earlier and they came to the conclusion that the materials were not relevant for a criminal prosecution against Edathy," the 11-page complaint said.
Froehlich also "massively violated" the personal rights of Edathy and ruined his professional, social and private life, it claimed.
The letter described as "simply disgusting" the chief prosecutor's assumption that Edathy had acted conspiratorially in ordering the videos and photos by using credit cards issued for hidden accounts and by downloading these materials with the computers in the Bundestag.
On the contrary, Edathy had ordered the videos and photos under his name, used credit cards issued to him and gave his own address, the letter said.
Edathy's "fully open handling" is exactly the opposite of a conspiratorial behaviour, his lawyer said.
Therefore the chief prosecutor's assumption is "defaming" and it is a "proof for his prejudice", the letter argued.
Meanwhile, Edathy has reported to the Bundestag that his official laptop used in the house was stolen.
Last week, prosecutors raided his houses and office, but found very little evidences to incriminate him.
Edathy, son of a migrant from Kerala, charged that the prosecutor's office opened an investigation against him without any concrete charges.