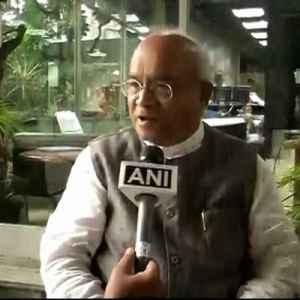 The Indian High Commission in Pakistan was not aware of journalist Ved Pratap Vaidik's meeting with Jamaat-ud-Dawa chief Hafiz Saeed and there was no question of facilitating it, External Affairs Minister Sushma Swaraj said on Thursday.
"We have received a report from the Indian High Commission (in Pakistan). The High Commission has categorically stated that they did not know about this meeting and, therefore, the question of the High Commission facilitating it does not arise," Swaraj said in the Lok Sabha.
Making a brief statement after vociferous demands for it by the Opposition – the Congress and the Rashtriya Janata Dal, she said she had heard that Vaidik "told some news channels that the High Commission knew about the meeting. We had then sought a report from the High Commission."
Swaraj said she had made it clear earlier too and "I am again saying with full responsibility that the government had nothing to do with either the visit of Vaidik (to Pakistan) or his meeting with Saeed."
Her statement came after the Congress and RJD members trooped into the Well, with Congress leader Mallikarjun Kharge asking if the ministers can make a statement on the matter outside Parliament or even in Rajya Sabha, 'why can't they do it here (Lok Sabha)'.